ASA 5506-X with FirePOWER services
ASA 5506-X with FirePOWER services, 8GE Data, 1 GE Mgmt, AC, 3DES/AES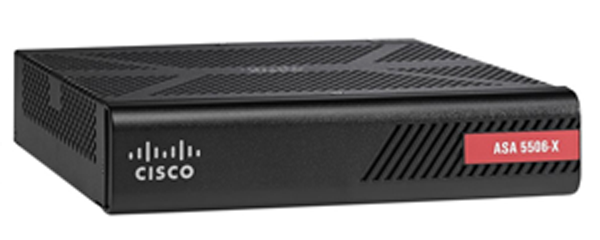 Cisco ASA 5506-X with FirePOWER Services (part # ASA5506-K9 )
Meet the industry's first adaptive, threat-focused next-generation firewall (NGFW) designed for a new era of threat and advanced malware protection. Cisco® ASA with FirePOWER Services delivers integrated threat defense for the entire attack continuum - before, during, and after an attack. How? By combining the proven security capabilities of the Cisco ASA firewall with the industry-leading Sourcefire® threat and Advanced Malware Protection (AMP) features together in a single device. The solution uniquely extends the capabilities of the Cisco ASA 5500-X Series NextGeneration Firewalls beyond what today's NGFW solutions are capable of. Whether you need protection for a small or midsized business, a distributed enterprise, or a single data center, Cisco ASA with FirePOWER Services provides the needed scale and context in a NGFW solution.
Superior Multilayered Protection of the Cisco ASA 5506-X with FirePOWER Services (part # ASA5506-K9 )
Cisco ASA with FirePOWER Services brings distinctive threat-focused next-generation security services to the
Cisco ASA 5506-X with FirePOWER Services (part # ASA5506-K9 ) which one of the Cisco ASA 5500-X Series Next-Generation Firewalls. It provides comprehensive protection from known and advanced threats, including protection against targeted and persistent malware attacks (Figure 1). Cisco ASA is the world's most widely deployed, enterprise-class stateful firewall. Cisco ASA with FirePOWER Services features these comprehensive capabilities:
Site-to-site and remote access VPN and advanced clustering provide highly secure, high-performance access and high availability to help ensure business continuity.
Granular Application Visibility and Control (AVC) supports more than 4,000 application-layer and risk-based controls that can launch tailored intrusion prevention system (IPS) threat detection policies to optimize security effectiveness.
The industry-leading Cisco ASA with FirePOWER next-generation IPS (NGIPS) provides highly effective threat prevention and full contextual awareness of users, infrastructure, applications, and content to detect multivector threats and automate defense response.
Reputation- and category-based URL filtering offer comprehensive alerting and control over suspicious web traffic and enforce policies on hundreds of millions of URLs in more than 80 categories.
AMP provides industry-leading breach detection effectiveness, sandboxing, a low total cost of ownership, and superior protection value that helps you discover, understand, and stop malware and emerging threats missed by other security layers.
Cisco ASA 5506-X w/ FirePOWER Services
Throughput: Application Control (AVC) 250 Mbps
Throughput: Application Control (AVC) and IPS 125 Mbps
Maximum concurrent sessions: 20,000; 50000 *1 (Higher specifications are associated with the Security Plus license.)
Maximum New Connections per second: 5,000
Supported applications:  More than 3,000
URL categories:  80+
Number of URLs categorized:  More than 280 million
Centralized configuration, logging, monitoring, and reporting :  Multi-device Cisco Security Manager (CSM) and Cisco Firepower Management Center
On-Device Management: ASDM (version 7.3 or higher required)


Stateful inspection throughput (maximum *1) : 750 Mbps
Stateful inspection throughput (multiprotocol *2) : 300 Mbps
Triple Data Encryption Standard/Advanced Encryption Standard (3DES/AES) VPN throughput*3): 100 Mbps
Users/nodes: Unlimited
IPsec site-to-site VPN peers : 10; 50 *4
Cisco AnyConnect Plus/Apex VPN maximum simultaneous connections:  50 *5
Virtual interfaces (VLANs)            5; 30 *4
Security contexts5 (included; maximum)              N/A
High availability *4       Requires Security Plus License; Active/Standby
Integrated Wireless Access Point (See Cisco AP 702 datasheet for WiFi technical details)                N/A

USB 2.0 ports: USB port type 'A', High Speed 2.0
Integrated I/O: 8 x 1 Gigabit Ethernet (GE)
Dedicated management port : Yes (To be shared with FirePOWER Services), 10/100/1000
Serial ports: 1 RJ-45 and Mini USB console
Solid-state drive: 50 GB mSata6
Memory: 4 GB
System flash: 8 GB
System bus: Multibus architecture
Operating Parameters    
Temperature     32 to 104°F (0 to 40 °C)
Relative humidity: 90 percent noncondensing
Altitude: Designed and tested for 0 to 10,000 ft (3048 m)

Acoustic noise   Fanless 0 dBA
Non-operating Parameters          
Temperature *7:  -13 to 158ºF (-25 to 70ºC)
Relative humidity:  10 to 90 percent noncondensing
Altitude: Designed and tested for 0 to 15,000 ft (4572 m)
Power Input (per power supply)                
AC range line voltage : External, 90 to 240 volts alternating current (VAC)
AC normal line voltage   90 to 240 VAC
AC frequency    50/60 Hz
Output
Steady state: 12V @2.5A
Maximum peak:  12V @ 5A
Maximum heat dissipation: 205 British thermal units (Btu)/hr
Form factor : Desktop, rack mountable
Dimensions : 1.72" x 7.871" x 9.23 " / (H x W x D) (4.369 x 19.992 x 23.444 cm)
Weight (with AC power supply):  4 lb (1.82 kg)


*1 Maximum throughput measured with UDP traffic under ideal conditions.
*2 Multiprotocol = Traffic profile consisting primarily of TCP-based protocols/applications like HTTP, SMTP, FTP, IMAPv4, BitTorrent, and DNS.
*3 VPN throughput and sessions count depend on the ASA device configuration and VPN traffic patterns. These elements should be taken into consideration as part of your capacity planning.
*4 Higher specifications are associated with the Security Plus license.
*5 Separately licensed feature. For AnyConnect, licenses are purchased based on feature tier (Plus/Apex), term and authorized user license. See ordering guide below for detailed ordering instructions.
*6 Usable space dependent upon system software.
*7 Derate the maximum operating temperature 1.5°C per 1000 ft above sea level.

Data sheet for Cisco ASA 5600-X with FirePOWER services part # ASA5506-K9 (pdf)