RAD
ASMi-53 SHDSL.bis CPE Modem
Point to Point Modems for Data Delivery to Those Outer Edges of Your Coverage Footprint
ASMi-53 SHDSL.bis CPE Modem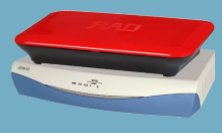 Key features ASMi-53 SHDSL.bis CPE Modem from RAD include:
Managed SHDSL.bis modem transmitting full-duplex at data rates of up to 5.7 Mbps over 2-wire, and 11.4 Mbps over 2/4-wire lines
Operating as STU-C (CO) or STU-R (CPE)
Full interoperability with Megaplex-4, LRS-102 (ASMi-54C and ASMi-54C/N modules), and third-party equipment
Remote power feeding
ASMi-53 overview
ASMi-53 is a cost-effective, dedicated, managed SHDSL.bis modem that extends the range of high-speed services over existing copper pairs. The modem is used for Ethernet, E1 and V.35 service extension at rates of up to 11.4 Mbps over 4-wire lines using bonding technology. The modem features an Ethernet, E1 or V.35 user interface. ASMi-53/Type1 can be ordered with:

ASMi-53/Type2 enables E1 and Ethernet or E1 and V.35 services combination and can be remotely powered by PFH-4 or by the MPF power feed unit, connected to Megaplex-4

RAD ASMi-53 Market Segments and Applications
ASMi-53 targets the following market segments:

Service providers
Corporate, utilities and transportation companies looking for economical delivery of voice and broadband data traffic.
ASMi-53 operates as a CO (Central Office) device or CPE (Customer Premises Equipment) in point-to-point applications ( Figure 1 ).
Interoperability of the ASMi-53
ASMi-53 is interoperable with the following CO devices:

Megaplex-4 or LRS-102 chassis, equipped with ASMi-54C or ASMi-54C/N modules ( Figure 2 )
Third-party DSLAMs ( Figure 3 ).
SHDSL with ASMi-53
The RAD ASMi-53 modem employs TPS-TC framing 64/65o for EFM (IEEE802.3) and HDLC (G.991.2) on the SHDSL link.
In CPE mode, ASMi-53 can be remotely managed by Megaplex-4 or LRS-102 through EOC (Embedded Operations Channel), VT (Virtual Terminal) or Telnet.
ASMi-53 Ethernet
ASMi-53 features one Ethernet 10/100BaseT port with half/full-duplex, autonegotiation and flow control. LAN is connected to network by bridging. The Ethernet port operates in a VLAN unaware mode (802.1d unaware). In this mode, all the Ethernet traffic reaching the port is forwarded to the network port and vice versa.
EFM Bonding capabilites of RAD ASMi-53 SHDSL.bis CPE Modem
EFM Bonding When using Ethernet service, EFM (Ethernet Fist Mile) bonding is applied. EFM bonding allows multiple pairs to be used as a single, high capacity link, providing more bandwidth over the existing copper infrastructure. EFM bonding shares Ethernet payload between the connected SHDSL lines, ensuring user traffic reliability in case of one pair failure.
Traffic Management/QoS on the ASMi-53
Traffic Management/QoS The DSCP priority schemes, and 802.1p priority classification allow users to define different QoS levels according to application requirements.The modem implements the IEEE's 802.1q standard to provide four levels of prioritization, enabling carriers to offer differentiated Ethernet services. Management traffic can be transferred via a separate VLAN, ensuring transparency of the customer traffic and enhanced management security. The user can activate or deactivate the priority mechanism. The priority can be configured and mapped to one of four priority queues. Ethernet port ingress and egress data rates can be limited.
ASMi-53 TDM
TDM ASMi-53 transports:

Framed and unframed E1 traffic
Note: TDM traffic is supported in the HDLC mode only.
TIMING AND SYNCHRONIZATION ON THE ASMi-53
In CO mode, ASMi-53 generates an internal synchronization signal or receives it from the E1 channel.
In CPE mode, ASMi-53 receives the synchronization signal from the CO unit
RAD ASMi-53 MANAGEMENT AND SECURITY
ASMi-53 can be managed :

RAD ASMi-53 MONITORING AND DIAGNOSTICS
ASMi-53 features an alarm system, physical layer performance monitoring (SHDSL, E1 and ETH statistics collection), and standard loopback diagnostics.
The fault propagation functionality enables the unit to shut down the Ethernet port when an SHDSL line failure is detected.
Diagnostic loopbacks and internal BERT are supported.
Common models include:
ASMi-53/AC/4W/V35
ASMi-53/AC/2W/E1
ASMi-53/AC/2W/ETH
ASMi-53/AC/4W/ETH/E1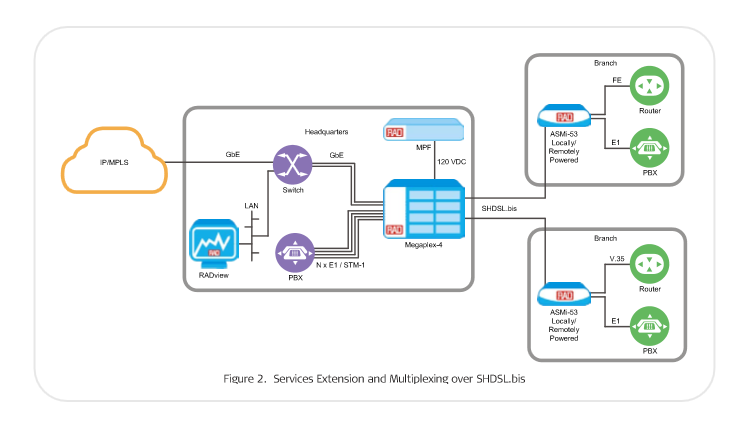 Data sheet for RAD ASMi-53