RAD
ASMi-54 2/4/8-Wire Full-Duplex Managed Modem Up to 5.7 Mbps Over 2-Wire and 22 Mbps Over 8-Wire
Point to Point Modems for Data Delivery to Those Outer Edges of Your Coverage Footprint
ASMi-54 is a simple, cost effective, dedicated, managed G.SHDSL.bis modem that extends the range of high-speed services over existing copper pairs. Using TC-PAM 16 or TC-PAM 32 line coding SHDSL.bis technology, the ASMi-54 modem can operate in full- duplex mode over 2-wire lines at data rates of up to 5.7 Mbps. RAD ASMi-54 supports a variety of applications that range from point- to-point Ethernet service extension up to 22 Mbps using bonding technology. Monitoring, control, and diagnostics of the local unit are available using a supervisory port.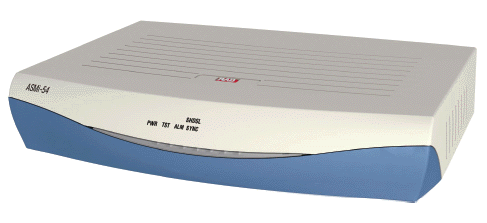 The line rate can either adapt to the condition of the line (noise, loop attenuation, etc.) or can operate at a fixed rate as selected by the user. The ASMi-54 from RAD can operate as a CO device or a CPE device according to user configuration. Ethernet is supported as one or four 10/100BaseT ports with half/full-duplex autonegotiation, and flow control. Fault propagation enables the unit to shut down the Ethernet user port when SHDSL line failure is detected. The ASMi-54 supports both quality of service (QoS) priority queues according to 802.1p, DSCP and per port, enabling users to define different levels of QoS according to application requirements. QoS prioritizes the LAN packet towards the DSL line according to four levels of priority. The user can activate or deactivate the priority mechanism, and each priority (VLAN priority, DSCP or per port) can be configured and mapped to one of four priority queues.

The ASMi-54 unit from RAD can be managed using the following connections:
• RS-232 craft port, and inband Ethernet port.
• Local terminal, Telnet server, SNMP (Ver.1), web server (ConfiguRAD)
• Inband management with or without dedicated VLAN.


ASMi-54 Key Features:

2/4/8-wire full-duplex managed modem with data rates of up to 5.7 Mbps over 2-wire and 22 Mbps over 8-wire
• TC-PAM 16 or TC-PAM 32 line coding
• SHDSL ITU-T G.991.2 and ETSI 101524 compliance
• 10/100BaseT or 4 x 10/100BaseT with integrated switch port options
ASMI-54 data sheet