RAD
ASMi-54L SHDSL.bis Modem
Point to Point Modems for Data Delivery to Those Outer Edges of Your Coverage Footprint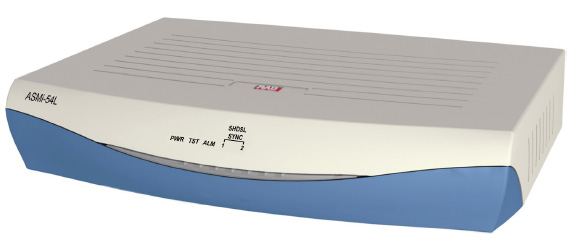 Key-Points of the RAD ASMi-54L SHDSL.bis Modem
• Managed modem transmitting full-duplex at data rates of up to 5.7 Mbps over 2-wire and 11.4 Mbps over 4-wire lines
• Dual Bearer mode for E1 and Ethernet HDLC
• Extended rates of up to 11.4/15 Mbps over 2-wire with RAD proprietary solution
• SHDSL bonding – for EFM: PAF according to IEEE802.3, for HDLC: M-Pair according to ITU-T G.991.2
• 4-port 10/100BaseT interface with integrated Ethernet switch
• Full interoperability with Megaplex-4/LRS-102 ASMi-54C and ASMi-54C/N modules in point-to-point application

The RAD ASMi-54L is a simple, cost-effective, dedicated managed SHDSL.bis modem that extends the range of high-speed services over existing copper pairs.
A special RAD proprietary solution provides the extended rates of up to:
• for EFM encapsulated data:15 Mbps over 2-wire lines (30 Mbps over 4-wire lines) • for HDLC encapsulated data:
- Without E1: 15 Mbps over 2-wire lines, 24 Mbps over 4-wire lines
- With E1: Depends on the number of timeslots used
- Full E1: 8.5 Mbps over 2-wire lines, 12.2 Mbps over 4-wire lines


SHDSL/SHDSL.BIS UTILIZED IN THE RAD ASMi-54L
The modem employs TPS-TC framing 64/65o for EFM (IEEE802.3) and HDLC (G.991.2) on the SHDSL/SHDSL.bis link. ASMi-54L performs line probing according to G.991.2. When enabled, the DSL interface adapts its rate to the condition of the line (noise, loop attenuation, etc.). When disabled, traffic on the DSL line is transmitted at a fixed rate selected by the user.
The RAD ASMi-54L SHDSL/SHDSL.BIS modems can operate as a CO device or a CPE device according to user configuration. The modem uses an Embedded Operation Channel (EOC) for controlling and monitoring the SHDSL/SHDSL.bis repeaters. Up to eight SHDSL/SHDSL.bis repeaters can be installed in line to increase the operation range of E1- and Ethernet-based modems.


EFM BONDING OF THE RAD ASMi-54L
EFM bonding on the Ethernet interface ensures that a failure or addition of a link does not drop the traffic being transmitted over other wires in the group. The capacity of the group does not decrease when a new link is added at a lower rate.


ETHERNET PORTS OF THE RAD ASMi-54L
ASMi-54L features up to four Ethernet 10/100BaseT ports with half/full-duplex, autonegotiation and flow control. The fault propagation functionality enables the unit to shut down the Ethernet user port when an SHDSL line failure is detected. LANs are connected by bridging. The internal forwarding of Ethernet traffic can be configured in two ways:
• By specifying the ports (a mode identified as unaware in accordance with Metro Ethernet Forum (MEF) standards). In this mode, all the Ethernet traffic reaching one of the ports is forwarded to the other port, and vice versa

• By using VLANs for classification: (a mode identified as aware in accordance with Metro Ethernet Forum (MEF) standards). In this mode, Ethernet traffic reaching one of the ports is forwarded to another port in accordance with its VLAN identifier In VLAN aware mode, VLAN ID is presented in the MAC table, and the packets can be forwarded according to both MAC address and VLAN ID.
TRAFFIC MANAGEMENT / QOS Wth ASMI-54L
802.1D, DSCP, Per Port, and Per VLAN ID priority schemes allow users to define different QoS levels according to application requirements.
The ASMI-54L implements the IEEE's 802.1q standards to provide VLAN-tagging with four levels of prioritization, enabling carriers to offer differentiated Ethernet services.

VLAN tagging can also be employed to separate traffic, ensuring transparency of the customer traffic and bolstering security of management traffic. The user can activate or deactivate the priority mechanism, and each priority (VLAN priority, DSCP, per port, or per VLAN ID) can be configured and mapped to one of four priority queues.

Ingress data rate can be limited on each Ethernet port.


ASMi-54L MANAGEMENT AND SECURITY
The ASMi-54L unit can be managed using the following connections:
• Local RS-232 terminal
• Telnet server (with DHCP support), SNMP (Ver.1)
• Web server
• Inband management with or without dedicated VLAN.

RAD ASMi-54L management traffic is protected with the Access Control List (ACL).


OAM
ASMi-54L complies with the IEEE 802.3ah (IEEE 802.3-2005) standard for Operation, Administration, and Maintenance (OAM), originally developed for Ethernet in the First Mile (EFM) applications. OAM is a set of functions designed to monitor network operation on an SHDSL line, in order to detect line faults and measure performance.


RESILIENCY WITH THE ASMi-54L
Dying Gasp condition occurs if there is an interruption in the ASMi-54L power source. ASMi-54L reports power failures to the specified network management stations by sending an SNMP trap. This helps a service provider identify and isolate the end-point device that experienced a power failure.


PHYSICAL
ASMi-54L is supplied in 1U-high plastic or metal 8.5 inch enclosures.

Modems in metal and plastic enclosures can be mounted alone or in pairs in a 19-inch rack using RAD's optional mounting kits.

Both plastic and metal enclosures are available in the extended temperature versions (by special request).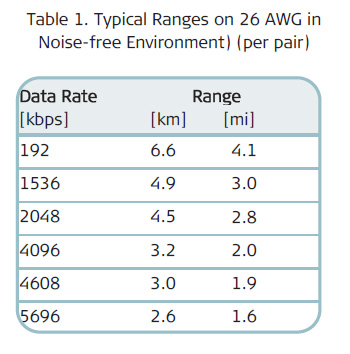 ASMI-54L data sheet