RAD
ETX-1p CPE for VPN and Cloud Access Services
Branch Office Service Router, Optimized for Cloud Access Services via IP-VPN, Broadband or LTE Networks

Key-Points of the ETX-1p CPE for VPN and Cloud Access Services
· Branch office service router, optimized for cloud access services via IP-VPN, broadband or LTE networks
· One or two embedded LTE modems
· Two SIM cards for maximum link resiliency
· GPS for location reporting
· Wi-Fi access point
· Zone-based stateful firewall
· Edge computing by hosting 3rd party container software for customized applications
· Zero Touch provisioning
· Support of RAD's SD-CloudAccess solution


Transition to Cloud Services With RAD ETX-1p
The digital transformation accelerates the pace of adoption of new services. Service providers deliver value-added-services from their data center, including networking (i.e., voice, secure Internet access) and IT (i.e., cloud on-ramp) services. ETX-1p is a branch office CPE enabling business customer transition to the cloud.


Reduced Total Cost of Ownership
The all-in-one form factor includes full featured routing, security, switching, LTE and Wi-Fi, making it easy to connect branches to the Internet and critical applications, without the need for extra hardware or complicated configurations. The comprehensive, multi-service functionality together with a variety of Interfaces, enables ETX-1p to support multiple usecases and customer segments in a single device, while reducing capital costs and simplifying logistics and operations.


Market Secgments and Applications
By combining powerful networking capabilities with flexible connectivity options, rich management interfaces, and embedded security services , RAD ETX-1p enables service provides to deliver advanced IP-VPN services, as well as value added virtual services from the data-center to the customer branch.


Flexible Overlay and Underlay
ETX-1p is the service provider's demarcation point at branch offices, enabling underlay connectivity to IP-VPN and broadband networks, as well as overlay connectivity to the service provider's data center. Branch offices consume their networking services from the service provider's data center, including IP-VPN connectivity to other branch offices, Internet access and public cloud access. ETX-1p serves as an end-point for the underlay and overlay networks in the branch site, offering resilient connectivity over multiple links to IP-VPN and fixed/mobile broadband networks. It can also serve as an end-point for overlay connectivity to the service provider's data center to allow value added services running at the data center and deployment of centralized vCPE. Branch site underlay connectivity is resilient with a backup link, typically connected to a broadband network.


Singel / Dual LTE Modems and GPS
With embedded LTE modems, connectivity is available from day 1 without waiting for a wire-based connection. ETX-1p features flexible configuration with option for one LTE modem with two SIM cards, or two embedded LTE modems, for maximum resiliency. Optional support of GPS for location reporting is also available. The ETX-1p HW is ready for future support of 5G modems.


Disaggregated Operating System
ETX-1p comes bundled with pCPE-OS, RAD's carrier-grade, 64-bit, Linux-based operating system, designed to run on several HW platforms, including ARM- and X86-based CPEs. pCPE-OS is a security hardened operating system, optimized to provide maximum performance with small SW footprint.


Containers - Next Level of Flexibility
ETX-1p can host containerized edge applications, supporting any 3rd party containers, which extend its original functionality to a new level. Containers can easily be installed and managed via ETX-1p's Web interface, or RADview NMS.


SD-CloudAccess
SD-CloudAccess enables access-agnostic application-aware traffic distribution across multiple access links, featuring bonding, failover, application based steering, and top up. This technology allows traffic to burst into a second cellular connection when the primary link bandwidth is not sufficient to meet the SLA. RAD's SD-CloudAccess solution can be purchased as an add-on service. For more information, refer to the SD-CloudAccess documentation.


Management and Security of the RAD ETX-1P
Management: ETX-1p can be managed via Web, CLI or by RADview.
Embedded Advanced Security: To optimize ETX-1p for meeting the evolving security needs of distributed environments, pCPE-OS includes embedded security features and options, such as stateful, zone-based firewall, threat protection and DPI. The NGFW functionality, including zone-based stateful firewall, DPI for application recognition, IDS/IPS and DDOS prevention, do not require additional licenses. It is possible to specify URLs, Web content filtering, and much more.


Designed for Zero Touch Deployment by Service Providers and Easy Operation
ETX-1p is designed to simplify operations, while providing service providers with visibility to their branch office demarcation. ETX-1p incorporates secure Zero-Touch-Provisioning mechanisms for agile and seamless vCPE deployment, reducing truck rolls and minimizing mass deployment operating costs. To automate the setup of overlay connectivity to the data center, ETX-1p can be integrated with the service provider's SDN controllers or orchestration systems, using NETCONF/YANG modeling.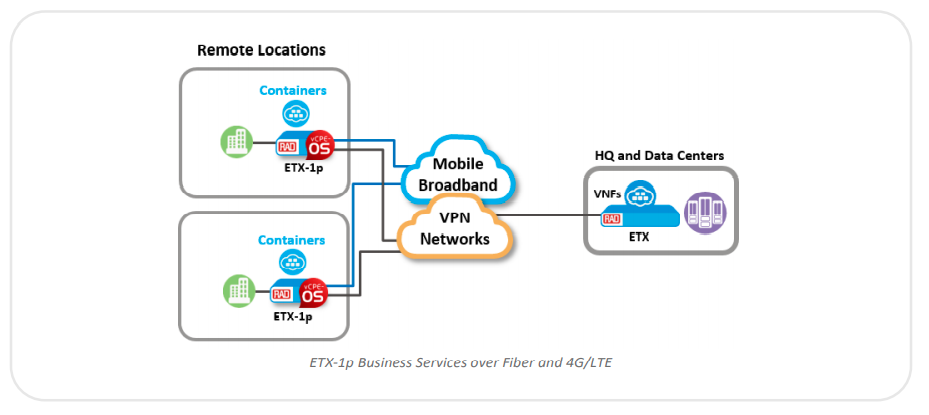 ETX-1p data sheet