RAD

ETX-2i IP Demarcation with D-NFV
ETX-2i from RAD
IP & Carrier Ethernet Demarcation with D-NFV
Feature-rich demarcation and aggregation suite, offering a complete Service Assured Access (SAA) solution, Line rate Layer-3 services, and vCPE applications, including distributed network functions virtualization (D-NFV) for rapid rollout of new services and network capabilities

Ideal for service providers, wholesalers, and mobile operators, seeking to deliver and monitor SLA-based MEF-certified Carrier Ethernet 2.0, Layer-3 VPN, and TDM-over-packet services with optional virtualization
Versatile offering of multirate Ethernet over fiber, SHDSL, VDSL, GPON, PDH, and TDM, assuring unified service delivery over any access technology
TWAMP and Layer-2 OAM, diagnostics for scalable and accurate traffic monitoring, quick fault detection, and troubleshooting of Layer-2 and Layer-3 networks
The ETX-2i IP & Carrier Ethernet Demarcation with D-NFV device is the main component of RAD's Service Assured Access solution, providing:

Ethernet service uniformity over multiple access technologies including GbE and 10GbE, SHDSL, VDSL, PDH, and SONET/SDH
Operation in diverse topologies including ring, daisy chain, and hub and spoke • PW functionality for mobile backhauling and business services
Synchronization for mobile 2G, 3G, LTE, and LTE-A backhauling networks
Network Function Virtualization (NFV) for vCPE solutions

ETX-2i is offered in a variety of product options: ETX-2i, ETX-2i-B, and ETX-2i-10G. ETX-2i is a next-generation hybrid L2 and L3 demarcation device. The RAD ETX-2i-B branch office device is an optimized access box adapted to the requirements of nextgeneration vCPE networks. The ETX-2i-10G device is an ETX-2i version supporting 10GbE ports. Table 1 provides further information on the capabilities offered by each ETX-2i device.
MARKET SEGMENTS AND APPLICATIONS FOR RAD ETX-2i
ETX-2i is ideal for carriers, service providers, wholesale providers, and mobile operators seeking to offer unified SLA-based Ethernet business services, such as E-Line, E-LAN, E-Tree, and E-Access services, as well as L3 VPNs and value-added services using virtualization at the customer edge.
ETX-2i NETWORK TOPOLOGIES AND INTEROPERABILITY
ETX-2i supports several network topologies such as linear, daisy chain, and self-healing rings (G.8032v2), working with ETX-5 or third-party Ethernet devices.
VCPE with RAD ETX-2i
ETX-2i leverages Network Functions Virtualization (NFV), allowing carriers to provide a vCPE solution in various models, including Centralized and Decentralized architectures. This solution reduces CAPX and OPEX by eliminating the physical appliance required for hosting network functions.
The D-NFV options allow for seamless insertion of i7 and ATOM (Rangeley) based x86 cards as an optional module. The D-NFV module hosts virtual machines providing virtual network functions (VFs) or value-added service capabilities. This enables service providers to quickly and easily provide new services and implement new network capabilities, with the benefit of function localization at the customer premises.
VCPE-OS SUPPORT FOR D-NFV ON RAD ETX-2i
The ETX-2i and ETX-2i-B D-NFV options are provided with RAD's vCPE-OS software platform. ETX-2i is a Linux based, carrier-class operating system for vCPE applications, with open management interfaces. vCPE-OS runs on any white box server and can be preloaded in RAD's virtual CPE (vCPE) platforms. It combines powerful networking capabilities with virtualization for hosting SDWAN and any other value-added virtual network function (VNF) applications from multiple vendors. For more information on vCPE-OS, please refer to the vCPE-OS datasheet.
RAD ETX-2i CARRIER ETHERNET 2.0
ETX-2i incorporates a complete set of CE 2.0certified Ethernet service tools that allow the service provider to distinguish between high and low-priority traffic, and optimize TCP sessions.
ETX-2i provides MEF 10.3 color aware and unaware policers, delivering high-scale multi-CoS services with hierarchical Quality of Service (HQoS).

It supports advanced scheduling, WRED per CoS, shaping per EVC and per port, with flexible classification rules and access lists.
MEF Services
ETX-2i delivers E-Line (EVL, EVPL), E-LAN (EPLAN, EVPLAN), E-Tree (EP-TREE, EVP-TREE), and E-Access services.
Layer-2 ETX-2i Control Processing
ETX-2i can be configured to forward or discard Layer-2 control frames (including other vendors' L2CP frames).

DHCP Snooping
ETX-2i supports DHCP Snooping with Option 82 for protection of DHCP transactions.
MLDv2 SNOOPING
With MLDv2 snooping, multicast data is selectively forwarded only to a list of self learned ports (per multicast group membership), instead of being flooded to all ports in a VLAN.
ROUTING ETX-2i
RAD ETX-2i models with enabled routing offer Virtual Routing and Forwarding (VRF) instances, allowing service providers to deploy L2 and L3 VPNs. The forwarding engine capability ranges from 1 to 8 Gbps, allowing Carrier Ethernet and IP services to be offered in a single device providing high-capacity performance monitoring, network function virtualization (NFV), and more.
ETHERNET OVER IP/GRE ETX-2i
RAD ETX-2i models with enabled routing offer Ethernet over IP/GRE tunneling (up to 32 IPv4 or IPv6 tunnels), allowing service providers to extend Layer-2 services to out of footprint sites over IP transport.
TDM PSEUDOWIRE ETX-2i
ETX-2i from RAD provides pseudowire (PW) services via a smart SFP (MiTOP). The PWs can be encapsulated using CESoPSN per IETF RFC 5086 or SAToP per IETF RFC 4553.
ETX-2i transports Ethernet over PDH infrastructure via the following NG-PDH technologies:

Generic Framing Procedure (GFP G.7041)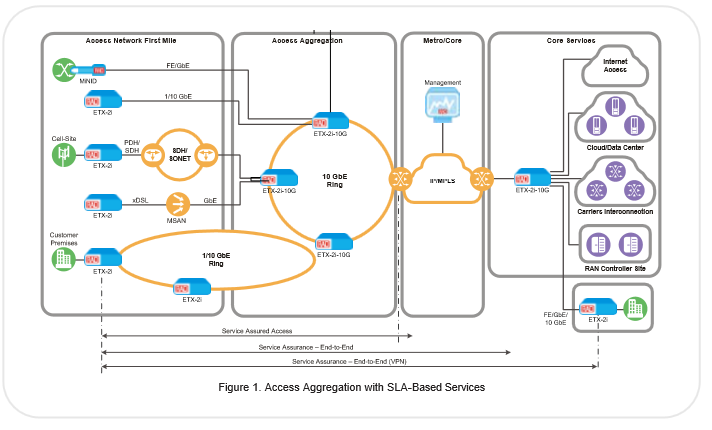 Common models include:
ETX-2i/AC/19
ETX-2i/AC/M
ETX-2i/DDC/M/PTP
ETX-2i/H/AC/19/PTP
ETX-2i/H/ACR/19/PTP
ETX-2i/H/AC/M/VDSL8W/POTS
ETX-2i/H/AC/M/VDSL8W/ISDN
ETX-2i-B/WR/2SFP/2CMB
ETX-2i-B/WR/2SFP/2CMB/DRC
ETX-2i-B/WR/2SFP/4UTP
ETX-2i-B/H/WR/2SFP/8SFP
ETX-2i-B/AC/V/2SFP/4UTP
ETX-2i-B/DDC/V/2SFP/4UTP
ETX-2i-10G/AC/4SFPP/4SFP4UTP
ETX-2i-10G/AC/4SFPP/8SFP/PTP
ETX-2i-10G/H/ACR/4SFPP/12SFP12UTP/PTP
ETX-2i-10G/H/DCR/4SFPP/12SFP12UTP/PTP
ETX-2i-10G/DCR/4SFPP/24SFP/PTP
ETX-2i-10G/ACR/4SFPP/24SFP
ETX-2i-10G/AC/4SFPP/8SFP

Data sheet for RAD ETX-2i