RAD

ETX-2v Open vCPE White Box Platform
RAD ETX-2v
Key features of the RAD ETX-2v open vCPE White Box Platform include

Carrier-grade white box, installed at the customer premises, suitable for virtual CPE and SD-WAN deployment
Part of RAD's vCPE solution, comprising certified VNFs, management and orchestration, vCPE-OS and pluggable interfaces
Hardware-based security
Based on the Intel Atom C2000 processor, ETX-2v offers different flavors for interfaces, performance, and storage. ETX-2v is a new carrier-grade white box, installed at the customer premises (either at headquarters or in remote branch sites) to support a wide range of business customers and user scenarios, from small offices to large sites, using a variety of bandwidth and processing power options. ETX-2v can be used with RAD's pluggable modules to fit any access media, while RAD's vCPE-OS, a carrier-grade operating system for network edge virtualization, optimizes data plane efficiency and integration to third-party orchestrators and SDN controllers.
MARKET SEGMENTS AND APPLICATIONS FOR THE RAD ETX-2V
The ETX-2v x86-based server hosts virtual functions (VFs) and applications. It uses RAD's vCPE-OS, which includes standard KVM hypervisor and OpenStack compute node to support third-party applications. RADview D-NFV Orchestrator enables service chain configuration.
Business Services ON ETX-2v - vCPE
For business services applications, ETX-2v fits any vCPE implementation mode: centralized, de-centralized or a mix of both.
In centralized deployments, ETX-2v acts as a pCPE (physical CPE), thanks to decoupling universal CPE software (vCPEOS) from hardware (any x86 server or RAD's ETX).
In decentralized deployments, ETX-2v functions as a uCPE (universal CPE), supporting an array of VNFs for supporting the following applications:
SD-WAN: Software-defined control of WAN connections with secure overlay tunnels for business services
Cryptography: Standard AES 256-bit cipher encryption/decryption of L2-L4 traffic
Next-Generation Firewall: Unified threat management for providermanaged SMB services
Session Border Controller (SBC): Managing of VoIP signaling and media flows
Packet Analyzer: Troubleshooting on demand from the customer edge using a packet sniffer VF
WAN Optimization: Eliminating content duplication, handling compression and optimizing latency
ETX-2v ensures remote, agile deployment of value-added services with D-NFV Orchestrator for device management and VIM (Virtualized Infrastructure Manager).
SD-WAN WITH RAD ETX-2v
When hosting an SD-WAN VNF, ETX-2v reduces networking costs and ensures fast deployment of Business services over any infrastructure.
Service providers can offer self-service portals, as well as application-aware visibility and control.
SMART RAD SFPS
Coupled with RAD's pluggable smart SFPs (such as MiRIC and MiNID), ETX-2v offers the unique value proposition of a carriergrade whitebox.
Using RAD's innovative vRIC solution for pluggable MLPPP interfaces, service providers can offer fiber access to their customer base connected to TDM access (E1/T1, E3/T3). The solution comprises an Ethernet over TDM smart SFP and a VNF bonding multiple smart SFPs into a single, logical MLPPP link. Eliminating separate power, cabling and rack space needs, ETX-2v ensures functional consistency across multiple hosting devices.
MANAGEMENT AND SECURITY OF RAD ETX-2v
ETX-2v is supported by the RADview orchestrator as follows:
NMS: topology display, inventory, compute node configuration, zerotouch for initial setup, SW upgrade and scheduled tasks)
Performance Manager: IP statistics, TWAPM results
D-NFVO: VM setup, backup/restore of OS, upgrade of OS, Heat templates
ETX-2v ARCHITECTURE
features open architecture for underlay networking and service overlay with RAD's vCPE-OS. The open NFV/SDN architecture facilitates integration with network-wide orchestrators and controllers.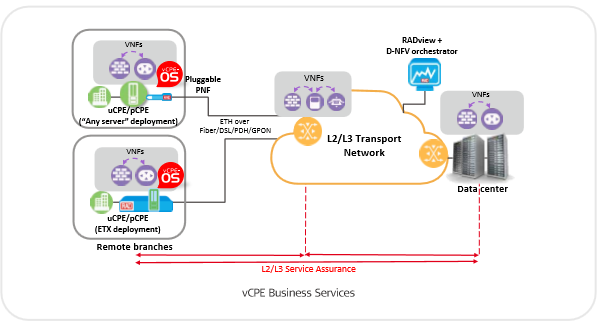 Data sheet for RAD ETX-2v