RAD
IPmux-24 TDM Pseudowire Access Gateway
TDM Pseudowire Access Stand Alone Unit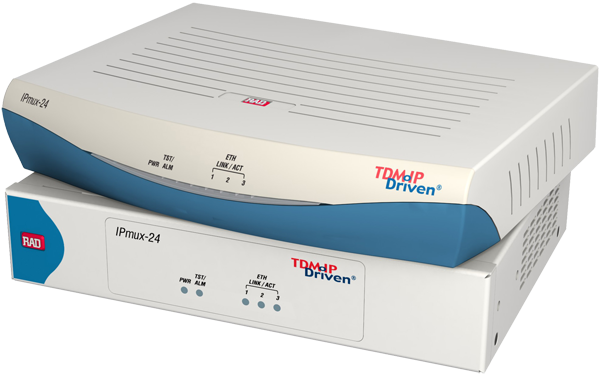 Key-Points of the RAD IPmux-24 TDM Pseudowire Access Gateway
• Comprehensive support for pseudowire/circuit emulation standards including TDMoIP, CESoPSN, SAToP, CESoETH and HDLCoPSN
• Industry-leading adaptive clock recovery mechanism suitable for cellular backhaul over packet-based networks
• Carrier-class/environmentally hardened device
• Extensive OAM and performance monitoring capabilities
• Three auto-detecting Gigabit or Fast Ethernet SFP- or UTP-based ports, and one, two or four TDM service ports


IPmux-24 provides legacy services over packet networks. The device converts the data stream from its user E1/T1 ports into packets for transmission over the network. These packets are transmitted via the RAD IPmux-24 Ethernet network port to the PSN. A remote pseudowire device converts the packets back to their original format.


TDM Pseudowire Functionality With the RAD IPmux-24
Pseudowire Functionality
The ASIC-based architecture provides a robust and high performance pseudowire solution with minimal processing delay. The unit employs various pseudowire encapsulation methods, including TDMoIP, CESoPSN, SAToP, CESoETH (MEF 8) and HDLCoPSN.

Proper balance between PSN throughput and delay is achieved via configurable packet size.

A jitter buffer compensates for packet delay variation (jitter) of up to 180 msec in the network.

Pseudowire Traffic Protection Pseudowire traffic can be backed up at the pseudowire connection level. This allows setting a different path for the primary and secondary PW bundles. Both bundles can be routed to the same or different destinations and operate in the 1+1 and 1:1 modes. In 1:1 redundancy with two remote devices the PW bundles in the remote units operate in "mate" mode. In this mode each device monitors traffic on a mate bundle and transfers data only when the other bundle is inactive.


OAM With the RAD IPmux-24
OAM
The unit uses the end-to-end Ethernet OAM protocol for proactive connectivity monitoring, fault verification, and fault isolation, according to the IEEE 802.1ag and ITU-T Y.1731 requirements.

In addition, RAD's TDM PW OAM mechanism verifies connectivity, measures round trip delay and prevents pseudowire configuration mismatch.


Bridge
RAD IPmux-24 features an internal bridge, operating in VLAN-aware and VLAN-unaware modes.

VLAN stacking is used for traffic separation between different users or services, by defining a service provider VLAN ID per customer or service. When VLAN stacking is used, a service provider VLAN tag is added to the user traffic and removed from network traffic. Both service provider VLAN ID and service provider VLAN priority can be defined.


Quality of Service Using the RAD IPmux-24
IPmux-24 provides four priority queues for each port or pseudowire traffic flow. User traffic can be prioritized according to VLAN priority, DSCP, IP Precedence or per port.

Outgoing pseudowire packets are prioritized over Ethernet network by being assigned a dedicated VLAN ID (802.1q) and marked for priority using 802.1P bits. Over IP networks, the outgoing pseudowire packets are marked for priority using DSCP, ToS, or Diffserv bits and over MPLS networks, EXP bits are assigned to a specific MPLS tunnel.


Timing and Synchronization
Simple Network Timing Protocol: IPmux-24 employs Simple Network Time Protocol (SNTP) for propagating and receiving time information on a network, according to SNTPv4 (RFC 4330) requirements. SNTP is used to configure data and time by learning the information from a single or multiple SNTP servers. The clock can be configured to a local time by defining UTC and DST offsets.


Pseudowire Timing
End-to-end synchronization between circuits is maintained by deploying advanced clock recovery mechanisms. Clock recovery conforms to G.823 and G.824 traffic interface using G.8261-defined scenarios. Advanced clock recovery conforms to G.823 synchronization interface using G.8261-defined scenarios and achieves 16 ppb clock accuracy. The system clock ensures a single clock source for all TDM links. The system clock uses master and fallback timing sources for clock redundancy. IPmux-24 also provides system clock input and output via an optional external clock port.
IPmux-24 Management and Security
IPmux-24 can be configured and monitored locally via an ASCII terminal, or remotely via Telnet/SSH, Web browser or RADview.

Management traffic can run over a dedicated VLAN.

The RADview Service Center and Element Manager packages control and monitor pseudowire devices and circuits. The Service Center's intuitive GUI, "point andclick" functionality and easy-to-follow wizards increase the efficiency and accuracy of the service provisioning process.IPmux-24 performs RADIUS client authentication. Using SSH and SSL encryption protocols allows secure communication over potentially insecure IP-based networks.

The Syslog protocol is used by IPmux-24 to generate and transport event notification messages over IP networks to the central Syslog server. The Syslog operation is compliant with the RFC 3164 requirements.

SNMPv3 support introduces a user-based security model, enhances authentication and encryption techniques, and ensures management traffic security.


Resiliency
Ethernet Ring Topologies: A G.8032 Layer-2 Ethernet ring is used by IPmux-24 for traffic protection. This technology builds a logical ring, defined as a set of IEEE 802.1-compliant bridges, and protects against link and node failures. To achieve this, every node in the ring has two bridge ports connected to adjacent nodes.

The ring itself is constructed independently of the transport technology used at the server layer.

In addition, the unit employs Resilient Ethernet Ring technology to construct a self-healing Ethernet fiber ring topology (ring resiliency is similar to that of SDH/SONET networks). In case of link failure on any segment of the ring, the pseudowire traffic is rerouted within 50 ms. A single ring supports up to 16 nodes.

Ethernet Link Protection: The unit performs link aggregation (LAG) based on 802.3ad requirements. Dual homing technology (1:1) allows IPmux-24 to be connected to two different upstream devices.


Monoitoring and Diagnostics
Fault propagation initiates service port alarms, e.g. E1/T1 LOS, to reflect network fault conditions. Alarms detected at service ports are propagated to the remote pseudowire device via the packet network.

Diagnostic loopbacks can be activated inband.

Ethernet and IP-layer network condition statistics, such as packet sequence errors (loss or misorder) and packet delay variation (jitter), are monitored and stored by the device.

The carrier-class version of IPmux-24 includes an alarm relay mechanism. The minor and major alarms are forwarded to a remote alarm device via dedicated pins of the external clock RJ-45 connector.

IPmux-24 data sheet