RAD
MiCLK 1588 Grandmaster on an SFP With Built-In GNSS
Ideal for 4G Small Cell Deployments
RAD MiCLK 1588
MiCLK from RAD offers a cost-effective migration path for providing robust synchronization near the network edge. MiCLK enables flexible deployment and easy integration into existing networks. The cutting-edge embedded GNSS receiver features excellent time accuracy even under challenging deployment scenarios such as building walls and urban canyons that are typical for small-cells installations. Design, and timing redundancy techniques, provide resiliency against local GNSS outage.
RAD MiCLK supports both Layer-2 and Layer-3 PTP distribution in unicast and multicast modes.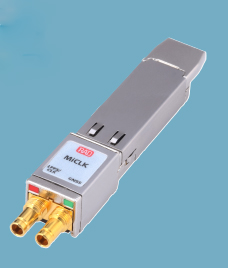 Some of the key features of the RAD MiCLK include:
• Fully-featured Primary Reference Time Clock (PRTC) and IEEE 1588-2008 (PTP) Grandmaster
• Built-in GNSS receiver
• Miniature pluggable device fits in any standard SFP port
• Ideal for 4G small cell deployments
• Cost-effective upgrade solution for legacy 2G/3G networks


RESILIENCY WITH RAD MiCLK

To achieve network-wide resiliency an operator may allow two or more PTP flows to reach every slave (base station), it is the slave who selects the best master available.

One option is to install two or more MiCLK units in geographically separated network elements located in the same backhaul network section.

Alternatively, two MiCLK units can be plugged into the same router/switch (connected to the same GNSS antenna via a standard passive RF splitter).

An operator may choose a combination of both resiliency types.

MiCLK supports multiple GNSS backup schemes. If the underlying network already supports Sync-E, MiCLK exploits the incoming Sync-E reference to maintain its accurate time during a GNSS outage.


FULL FEATURED PTP-GM WITH RAD MiCLK

MiCLK distributes frequency and time simultaneously, according to both ITU-T G.8265.1 (IP/unicast) and ITU-T G.8275.1 (L2/multicast), and G.8275.2 (IP/unicast) PTP telecom profiles. This is especially effective in hybrid cellular environments that comprise co-located 3G/4G base station technologies. When working in ITU-T G.8265.1 mode, MiCLK supports up to 64 simultaneous slaves (symmetric 128 packets/second).


PRIMARY REFERENCE TIME CLOCK


RAD's MiCLK is used as an ITU-T G.8272 Primary Reference Time Clock (PRTC), providing information on GNSS time and frequency to the network, both by sourcing a Sync-E distribution chain (Sync-E Ethernet SSM messages) and using its 1-PPS external interface output.


MARKET SEGMENTS AND APPLICATIONS FOR THE RAD MiCLK INCLUDE BUT ARE NOT LIMITED TO

Deployment scenarios for the MiCLK include future 4G mobile networks, such as LTE and LTE-A, with a particular focus on small cell applications. Furthermore, support of simultaneous L2/L3 PTP distribution also provides a cost-effective upgrade solution for legacy 2G and 3G networks by supporting SDH replacement scenarios.

MiCLK's preferred deployment location is versatile. Due to its cost-effectiveness, MiCLK can be widely placed close to the base stations in order to reduce packet delay variation and asymmetry. Furthermore, MiCLK saves CAPEX by adding timing capabilities to existing aggregation points, servicing dozens of base stations.
Data sheet for RAD MiCLK