RAD
MiNID® Smart Miniature Network Interface Device
Available as an SFP or Stand Alone Unit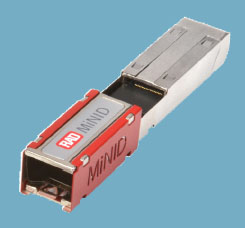 MiNID ®
Smart Miniature Network Interface Device
• Serves as a fully functional Network Interface Device (NID)
• Plugs easily into SFP ports of switches and routers
• Adds Carrier Ethernet demarcation and SLA assurance capabilities
• Enhances performance monitoring and diagnostics with comprehensive OAM tools
• Lowers OpEx by decreasing power consumption, space, and installation costs


RAD's MiNID is a revolutionary platform for service providers looking to upgrade their networks to deliver reliable bandwidth with end-to-end SLA assurance guarantees. MiNID's innovative patent-pending design helps break through the barriers of cost and complexity to make Carrier Ethernet available to everyone, everywhere.

MiNID provides instant Carrier Ethernet functionality for switches, routers, and mobile base stations. Easily pluggable into standard SFP ports, it eliminates power, space, and cabling expenses while its comprehensive OAM tools reduce truck rolls by enhancing performance
monitoring, fault diagnostics, and wire-speed circuit validation.

MiNID transparently envelops a large variety of SFPs, enabling full reuse of customer equipment and seamless deployment over multiple access infrastructure types, such as short haul and long haul fiber connections, bidirectional single fiber links, and copper lines.

MiNID is a true plug-and-play solution. Its zero-touch provisioning capabilities enable easy installation by anyone.


RAD MiNID MARKET SEGMENTS AND APPLICATIONS

MiNID is the perfect solution for service assurance in mobile backhauling networks, small cells, business services, and wholesale services, as an important part of the toolkit offered by RAD's Service Assured Access solution.

As a service demarcation device, it can attach Service VLAN and add priority marking to multiple services at the customer premises, ensuring proper service handling throughout the service provider network.

Its service assurance capabilities include in-service loopbacks, performance monitoring, and end-to-end fault measurement, for continuous collection of key performance indicators for all services.

For the mobile backhauling market, MiNID also offers transparent SyncE. up to 1 Gbps of Ethernet user traffic with per-port and per-flow OAM capabilities using performance monitoring counters, while providing remote end-to-end service control.

As part of RAD's EtherAccess© portfolio, MiNID's fully standard functionality ensures seamless interoperability with any network as well as third-party devices for seamless integration into existing networks.

MiNID preserves existing investments, enhancing legacy networks to be MEF Carrier Ethernet 2.0-compliant without having to discard and replace existing equipment.


ETHERNET

Service Demarcation
MiNID provides the following:
• Port-based and flow-based classification of multiple services
• Flow classification per VLAN range, P-bits, DSCP, EtherType, source/destination MAC address
• Adding or replacing VLAN per flow with priority marking per P-bits and DSCP


RAD MiNID MONITORING AND DIAGNOSTICS

OAM
MiNID delivers the following OAMcapabilities per EVC.COS:
• IEEE-802.1ag (CFM) for continuity check, loopback, and link trace, with MEP and MIP support
• ITU-T Y.1731 for loss, delay, and delay variation measurements, as well as fault propagation (AIS/RDI)
• IEEE 802.3-2005 (formerly IEEE 802.3ah) link OAM

Dying Gasp
Upon power failure, MiNID sends an IEEE 802.3-2005 message or SNMP trap notifying of the loss of power.

Loopback Tests
MiNID provides on-demand intrusive and non-intrusive loopbacks at wire speed, with or without MAC and IP swap per flow.

RFC-2544
MiNID responds to RFC-2544 service validation tests.

Digital Diagnostic Monitoring
MiNID transparently relays Digital Diagnostics Monitoring (DDM) information from DDM-enabled optical SFPs to the hosting device.


MiNID MANAGEMENT

MiNID offers VLAN-based inband management, via the hosted SFP or the MSA edge connector, enabling a separate management channel from the host device.

Additionally, MiNID is ready for integration with host devices via I2C management channel, making MiNID an integral part of the host device.
Application software can be downloaded to MiNID via:
• SFP-CA unit, using YMODEM protocol
• TFTP server
Out-of-band management and software configuration can also be done from any Ethernet port in the host device.

Menu-driven Interface
MiNID can be managed via a Web-basedmenu-driven interface for simple andintuitive operation.

Command Line Interface (CLI)
The RAD MiNID can be managed via CLI in a Telnet session, allowing simple integration with network management systems. Zero Touch Provisioning Host IP address and configuration files can be automatically obtained using standard DHCP client functionality, allowing easy
integration into the network.


Specifications of the MiNID

ETHERNET INTERFACE

Edge Connector
SFP-based, MSA-compliant

Type
1000BaseFx

SFP Transceivers
Optical: Dual/single fiber
1000Base-SX/LX/ZX/BX and CWDM

Electrical: 1000BaseT

Compliance
IEEE 802.3

Max. Frame Size
2,048


GENERAL INFORMATION ON MiNID


Power
Max 1.4W (not including SFP)

Physical
Height: 12.7 mm (0.50 in)
Width: 14.3 mm (0.56 in)
Depth: 81.1 mm (3.19 in)
Weight: 30.0 g (1.0 oz)
Note: MiNID adds33.5 mm (1.32 in.) to the depth of the host device.

Environment
Operating case temperature:
-20 to 85°C (-4 to 185°F)
Humidity: Up to 90%, non-condensing
MiNID data sheet