RAD
MiVDSL VDSL2 for Any-PHY Platform
Small Form-Factor Pluggable (SFP) enclosure
RAD MiVDSL
MiVDSL VDSL2 SFP for Any-PHY Platform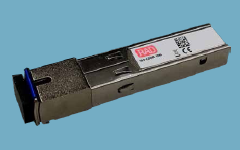 Key points of the RAD MiVDSL

Extends the 100 m (328 ft) distance limit for Ethernet connectivity via copper wire up
to 3 km (9842 ft)
Supports VDSL2, ADSL2/2+ bridged modem functionality
MiVDSL SFP from RAD provides two modifications (LRE and Telco) for different applications by customer request:
MARKET SEGMENTS AND APPLICATIONS FOR THE RAD MiVDSL
For Industrial Ethernet market, SFP interface is popular and widely available in unmanaged and managed switches. RAD's VDSL based LRE SFP provides this market with an instant way to extend the
Ethernet connection from limitation of 100m to 3km via copper wire. The benefit for industrial Ethernet system providers, the LRE SFP can enrich their product portfolio with less effort and quick time to market. For Telco xDSL CPE or home gateway application, there are many devices that have an SFP interface which is reserved for future bandwidth expansion. By taking this advantage of the existing SFP interface, xDSL SFP module can be easily applied to the device hence the device can be adapted to use PON/xDSL/Ethernet SFP by user's bandwidth requirements.

Data sheet for RAD MiVDSL