RAD

Megaplex-1 / MP-1 Multiservice Pseudowire Access Gateway
RAD Megaplex-1 Multiservice Pseudowire Access Gateway

Applications include: Transportation and Utilities and More
Key features of the RAD Megaplex-1 or MP-1 include
Grooming and consolidating and transmitting analog voice and TDM-based services over Ethernet, IP or MPLS networks using standard-compliant pseudowire technology
Bridge functionality for packet switched networks with 2 optical/copper GbE uplinks and 1 FE user interface
Hitless PW redundancy
Wide range of services including: FXS or E&M toll-quality analog voice channels, IEEE C37.94-compliant optical tele-protection, programmable serial ports
1U, 19" fanless enclosure with redundant wide-range power supply (AC and DC)
Megaplex-1 is a multiservice pseudowire gateway that transports analog and TDM traffic (originating from legacy circuitswitched networks) over packet-switched networks (PSNs).
MARKET SEGMENTS AND APPLICATIONS Various users can benefit from the Megaplex-1 solution:
Users looking for a future-proof migration path to IP connectivity
Owners of facilities sensitive to space or climate constraints
Its ability to handle a broad range of Ethernet, data and voice services in a single compact managed node, makes Megaplex-1 an ideal access solution for diverse network operators and service providers. It also provides a perfect fit for utilities and transportation companies that require an efficient way to transport and provision multiple legacy and nextgeneration services over their high capacity pipes.
Services of the RAD Megaplex-1 or MP-1 Multiservice Pseudowire Access Gateway
Megaplex-1 provides a variety of services, via its many user interfaces, such as:
IEEE C37.94 fiber optic teleprotection ports
IEEE C37.94 fiber optic teleprotection ports
Serial synchronous/asynchronous data ports
Voice ports (FXS, E&M)
Fast Ethernet (10/100BaseT)
Ethernet Megaplex-1 internal switch
Megaplex-1 features a powerful internal Layer-2 Ethernet switch that provides Ethernet user ports with rate limiting and VLAN-based/port-based classification capabilities. Megaplex-1 includes the following Ethernet ports:
The GbE Network (NNI) ports provide the physical connection to the packet switched network. These ports provide Megaplex-1 with a multirate FE/GE interface, for optical or electrical media, and can be ordered with one of the following interfaces:
10/100/1000BASE-T copper ports. This type of ports support auto-negotiation with user-specified advertised data rate (10, 100 or 1000 Mbps) and operating mode (half- or full-duplex).
The ports also support automatic polarity and crossover detection, and polarity correction, for connection through any type of cable to any type of Ethernet port (hub or station). Alternatively, autonegotiation can be disabled and the rate and operating mode be directly specified.

SFP sockets, for installing 100/1000BASE-X SFP plug-in modules. Support for standard SFP optical transceivers for the GbE link interfaces enables selecting the optimal interface for each application. This type of ports does not support autonegotiation. RAD offers a wide variety of SFPs, for meeting a wide range of operational requirements.
The UNI Ethernet port has 10/100BASE-TX interface terminated in RJ-45 connector capable of autonegotiation. The user can configure the advertised data rate (10 or 100 Mbps) and operating mode (half-duplex or full-duplex). Alternatively, autonegotiation can be disabled, and the rate and operating mode be directly specified. In addition to autonegotiation, MDI/MDIX polarity and cross-over detection and automatic cross-over correction are also supported.
PSEUDOWIRE capbilities embedded in the MP-1 or Megaplex-1 from RAD
The device uses its embedded pseudowire engine to encapsulate the user services for low-latency transmission over packet-switched networks. The powerful pseudowire engine provides up to 6 protected (or up to 12 unprotected) PWs with up to 31 timeslots per each PW port. A remote pseudowire device converts the packets back to the original user traffic format.
SERIAL
The serial data rates are independently selectable for each channel and depend on the selected encapsulation mode:
None: each channel operates at high speed rates of n·56 or n·64 kbps, where n = 1 to 31 (that is, maximum 1984 kbps).
V110: each channel operates at low speed sync rates of 2.4, 4.8, 9.6, 19.2 or 38.4 kbps, performing rate adaptation in accordance with ITU-T Rec. V.110.
3-bit transitional: the interface provides transitional encoding to transmit asynchronous data at rates up to 19.2/38.4 kbps. It operates by encoding asynchronous data in a 3-bit transitional code, which is then transmitted over the Megaplex uplink at a rate of 64/128 kbps. This mode covers all asynchronous character formats.

The interface terminates in two 68-pin SCSI-4 female connectors. Each connector includes 3 channels. This provides a simple and easy SW-configurable selection of serial interface (V.35, RS-422 or RS-232) according to the deployment needs.
Adapter cables, available upon order, are offered by RAD to split each connector into three separate channel interfaces with standard connectors: V.35, RS-530, RS-232, X.21 or V.36/RS-449. Each channel has local support of interface control signals (CTS, RTS, DCD, DSR and DTR). In addition, each channel can be configured to transmit control signals end-to-end.
OPTICAL TELE-PROTECTION of the RAD Megaplex-1
The interface can be used for both user and network ports – either for inter-substation communication or for transmitting distance teleprotection information.
The dual-port fiber optic interface operates at a nominal wavelength of 850 nm and nominal line rate of 2.048 Mbps. Each port is terminated in a pair of ST connectors for connection to standard multimode fiber.
The interface complies with IEEE C37.94 standard for distances of up to 2 km.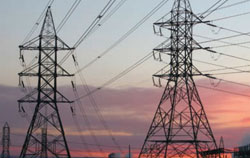 VOICE TRAFFIC cabilibites of the MP-1 Megaplex-1
The voice interface provides 8 FXS or 4 E&M toll-quality analog voice channels. Voice signals are digitized using PCM, in compliance with ITU-T G.711 and AT&T Pub. 43801 standards.
Encoding and decoding are in full compliance with ITU-T requirements G.711. Voice channel companding is selectable for A-law or µ-law.



The E&M interface operates with different types of E&M signaling: EIA RS-464 Types I, II, III and V (British Telecom SSDC5). Both 2-wire and 4-wire lines are supported (user-selectable).
The E&M interface provides EIA RS-464 Type I signaling without the need for an external DC power supply. For other signaling types, the internal -12 VDC provided by the chassis is sufficient for connection to most PBX systems.
However, for full support of EIA RS-464 Types II, III and V (BT SSDC5) standards, a -48 VDC power source is required.
The FXS interface employs both loop-start and wink-start signaling methods. FXS interfaces are typically used for direct connection to 2-wire telephones in the following loop-start applications:
Off-Premises Extension (OPX), where a local telephone on the PBX can be connected to an off-premises telephone, by dialing only the extension number
Private Line, Automatic Ringdown application (PLAR) (also referred to as Hot Line), where two telephones are connected directly via the E1/T1 link. When the telephone on one side goes off-hook, the other telephone rings
Direct connection to 2-wire telephones in PSTNapplications.
When operating in PCM mode, battery polarity is reversed for wink-start signaling, used in direct inward dialing (DID) applications.
The E&M interface provides signaling at +12V for applications that require positive signaling voltage (for example, radio transmitters) and perform fault propagation.
Both E&M and FXS interfaces require a nominal -48 VDC (-37 to -75 VDC) source. This power can be provided either by an appropriate DC-powered chassis, or by an external standalone Ringer power supply unit in accordance with the number of ports.
Gain control is user-selectable for both receive and transmit directions, enabling easy installation in all environments

RESILIENCY
Service reliability in Megaplex-1 is based on the following resiliency features:
Fanless operation
Redundant wide range power supply
Dual NNI ports
Hitless PW protection
MANAGEMENT AND SECURITY features of the RAD Megaplex or MP-1
The device can be managed via RADview, RAD's carrier-class NMS, or any SNMP-based management system. Megaplex-1 supports a variety of access protocols, including CLI over Telnet, SNMPv3, and TFTP. Security features include SNMPv3, RADIUS (client authentication), TACACS+ (client authentication, authorization, and accounting), SSH, and SFTP. Access Control Lists (ACL) can also be used to flexibly filter and mark management traffic, enabling service providers to maintain network security by dropping unwanted packets.
MONITORING and Diagnostics
Comprehensive diagnostic capabilities include:
Local and remote loopbacks
Real-time alarms to alert the user on fault conditions

Megaplex-1 collects statistics per physical port and per connection for 15-minute intervals, which enables the network operator to monitor the transmission performance and thus the quality of service provided to users, as well as identify transmission problems. Statistics for the last 24 hours are stored in the device and can be retrieved by the network management station. The Performance Management Portal is an SLA assurance system that is part of the RADview management system, enabling real-time monitoring of Ethernet service performance by collecting KPI data from RAD devices.
Examples of two applications for the RAD Megaplex-1 MP-1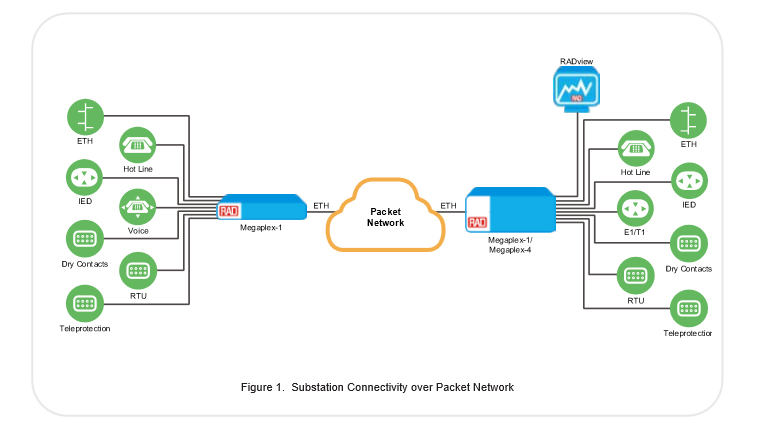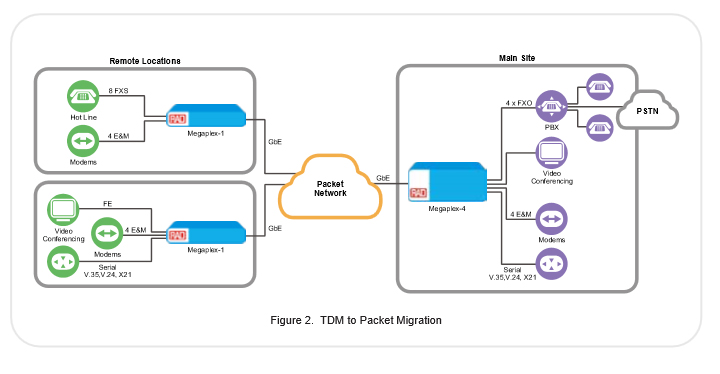 Data sheet for RAD MP-1 Megaplex-1