RAD

Megaplex-4100 (MP-4) for Both Your New and Old DACS Applications
RAD MP-4 Next Generation Multiservice Access Node
Applications include: Utilities and Transportation
Megaplex-4100 ( MP-4 ) by RAD/ RAD MP-4 Megaplex for both your new and old DACS applications
The RAD Megaplex-4 ( MP-4) can do many things beyond the capabilities of the traditional DACS. The RAD MP-4 is more than just a DACS, it is truly a Next Generation Multiservice Access Node.
For the moment, let us focus on a basic traditional DACS application. The application likely has T1s, T3s, system resiliency and an uplink.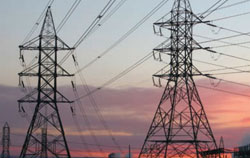 RAD Megaplex-4 ( MP-4) basic facts:
10-slot Megaplex-4100 and a compact 4-slot Megaplex-4104 available
Redundant Power supply (AC, DC, HVDC options)
Common logic redundancy
Up to 160 E1/T1 links in a single MP-4100 chassis
Can accommodate multiple single-port T3 interface modules multiplexing up to 28 T1 channels
Options for: STM-1/OC-3, STM-4/OC-12, GigE copper and SFP
Management Options include: CLI, RADview management and VF orchestration suite, Standalone Shelf View application
Stringent security feature set
Carrier-class service reliability of the Megaplex-4 ( MP-4) ensures continuous availability and sub-50ms restoration in the event of network outages through system redundancy options, link and path protection schemes and enhanced support for diverse ring topologies.
Megaplex-4 offers a future-proof migration path to IP connectivity
MEF CE 2.0 certified
Central solution aggregating Ethernet and TDM services over fiber/copper
Comes with 5 year hardware warranty
Outstanding RADCare enhanced levels of support available
Megaplex-4 ( MP-4) offers Traffic Duplication
Traffic Duplication, a unique technology available in Megaplex-4, allows networks with mission-critical applications to enhance reliability and performance. It can be used to minimize delay on critical utility applications (such as Teleprotection) by capitalizing on Carrier Ethernet reduced latency at higher speeds. Mission-critical traffic can be transported over a new Carrier Ethernet network running in parallel with the existing SDH/SONET network, while preparing for future, full service migration.

Data sheet sheets for:
Megaplex-4100 / 4104 MP-4


16 channel T1 module


8 channel T1 module


T3 module



Teleprotection:
Teleprotection C37.94 - MP-4100M-VS/6S/C37/UTP Versatile module with 6 serial ports, 2 C37.94 ports and Ethernet port with 10/100 BaseT interface


Teleprotection module



See some of what the RAD MP-4 offers beyond just T1 and T3 DACS applications.