RAD

PowerFlow-2 Managed Ruggedized Ethernet Switch with Power over Ethernet
RAD PowerFlow-2 Managed Ruggedized Ethernet Switch with Power over Ethernet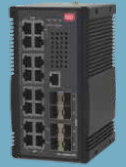 Compact Industrial and ruggedized Ethernet switches with up to 16 10/100/1000BaseT, and 8x100/1000BaseFX SFPs
Flexible deployment scenarios using xSTP, ERPS and ultra-fast recovery with PF-Ring and PF-chain
Advanced L2 functionality like policing and traffic management, as well as security features to assure User Authentication and Device Connection Control
Variety of input voltage and POE feeding options including POE++
Wide Operating Temperature
PowerFlow-2 are managed and unmanaged industrial grade Gigabit Ethernet switches from RAD are designed to build packet-based operational networks of Critical Infrastructure verticals.
RAD PowerFlow Market Segments and Applicaitons
PowerFlow-2 applications include power utilities, railways, traffic controllers, and safe city applications which require advanced Layer 2 functionality and which in many cases are PoE intensive. Different models of the PowerFlow-2 systems are fully compliant with the requirement of IEC 61850-3 and IEEE 1613 required for power utilities, 50121-4 for railways, and NEMA TS2 for traffic controllers. PowerFlow-2 provide a variety of redundant functions to increase the reliability and deployment flexibility of the communications system, including variety of Ethernet functions, such as xSTP, G.8032 and ultra-fast recovery using PS-ring and PF-chain unique features. Dual DC inlets and variety of isolated power supply options address a wide range of installation scenarios.
PowerFlow-2 interoperability
PowerFlow-2 is compatible with SecFlow-2 (RSTP, ERPS), Airmux, and PowerFlow-2-10G.
RAD PowerFlow-2 offers Resiliency
Ethernet Ring Protection
PowerFlow-2 supports STP, RSTP, MSTP, ITU-T G.8032 Ethernet Ring Protection Switching (ERPS), and PF-Ring for redundant cabling.

PowerFlow-2 provides five Ring instances, while each can support G.8032, PF-Ring, PF-Chain or Sub-Ring type for flexible uses. (Refer to Installation and Operation manual for more details).


PF-Ring can be established for Redundant Ethernet Ring, having recovery time<10ms with up to 250 units.
PowerFlow-2 Mangement and Security
PowerFlow-2 can be managed using user-friendly web interface and CLI with textual data base, and supports SNMPv3 and SSH using IPv4 or IPv6. Advanced L2 Ethernet functions (IGMP, VLAN, QoS) and security features (ACL, 802.1X) provide reliable secure communication. PowerFlow-2 can be managed centrally and conveniently by RADview's Element Management System or other third-party SNMP managers.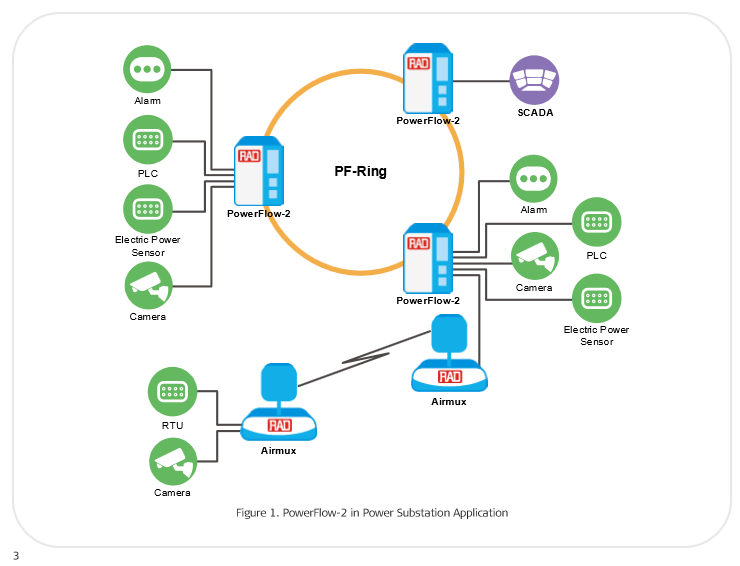 Data sheet for RAD PowerFlow-2