RAD

PowerFlow-2-10G Industrial 10G Core Switch

PowerFlow-2-10G Industrial 10G Core Switch
Flexible deployment scenarios using xSTP, ERPS and ultra-fast recovery with PF-ring and PF-chain
L2 and security features
Variety of input voltage and POE feeding options including POE+
Certified for EN 50212-4
Ethernet switching
PowerFlow-2-10G Industrial 10G Core Switch from RAD
PowerFlow-2-10G are industrial grade Ethernet switches equipped with 4 10G SFP+ ports with two combinations of UNI ports. The first includes 20 gigabit SFP ports plus 4 combo gigabit ports, and the second supports 4GbE and 24 copper ports with up to 400W PoE. The devices have fanless design with redundant, isolated power supplies (2 DC for all options, 2 AC and AC + DC for the UNI SFP only version) and can be mounted in 19-inch EIA standard rack. PowerFlow-2-10G offers various L2 Ethernet functions (IGMP, VLAN, QoS, ACL, Security, IPv6 for management, bandwidth control, and port mirroring) and also supports PF-Ring redundancy protocol that can establish 14 independent rings and sub-rings for flexible applications, especially when employed in backbone infrastructure. The switches can also be managed centrally and conveniently by an Element Management System and mass configured by RADview.
PowerFlow-2-10G Market Segments and applications
PowerFlow-2-10G applications include power utilities, railways, traffic controllers, and safe city applications which require advanced Layer 2 functionality and which in many cases are PoE intensive or need to aggregate multiple 1GbB rings. PowerFlow-2-10G systems are fully compliant with the requirement of 50121-4 for railways. The switches provide a variety of redundant functions to increase the reliability and deployment flexibility of the communications system, including variety of Ethernet functions, such as xSTP, G.8032 and ultra-fast recovery using PS-ring and PF-chain unique features. Dual DC (dual AC or combination) power supplies address a wide range of installation scenarios.
RAD PowerFlow-2-10G interoperability
PowerFlow-2-10G are compatible with PowerFlow-2 and SecFlow-2 (RSTP, ERPS).
Ethernet with RAD PowerFlow-2
PowerFlow-2-10G support IEEE802.1q, IEEE802.1d and relevant parts of IEEE802.3.
Resiliency of RAD PowerFlow-2-10G Industrial 10G Core Switch
Ethernet Ring Protection
PowerFlow-2-10G support STP, RSTP, MSTP, ITU-T G.8032v1, G.8032v2 Ethernet Ring Protection Switching (ERPS), and PF-Ring for redundant cabling.
PowerFlow-2-10G provides 14 ring instances, while each can support the PF-Ring, PF-Chain or Sub-Ring type for flexible networking applications. (Refer to Installation and Operation manual for more details).
PF-Ring can be established for Redundant Ethernet Ring, having recovery time<10ms with up to 250 units.
LAG
The full Gigabit capability supports Link Aggregation (Dynamic IEEE 802.3ad LACP) with up to 14 trunk group (maximum 8 ports per group) to increase bandwidth, thus providing high-performance quick transfer of large amounts of video, voice and data across a network.
Timing and Synchronization of RAD PowerFlow-2-10G Industrial 10G Core Switch
PowerFlow-2-10G support IEEE1588 PTPv2 for precise time synchronization to operate in Transparent Clock mode by each port.
PowerFlow-2-10G Industrial 10G Core Switch Monitoring and Diagnostics
Diagnostic features include RMON (1, 2, 3, 9 group), RMON II, RFC1213 MIB II, IP Source Guard, and Port Mirroring.
Mangement and Security with RAD PowerFlow-2-10G Industrial 10G Core Switch
PowerFlow-2-10G can be managed via CLI, Web-based application, SSL/SSHv2, SNMP v1/v2c/v3, Telnet server for management.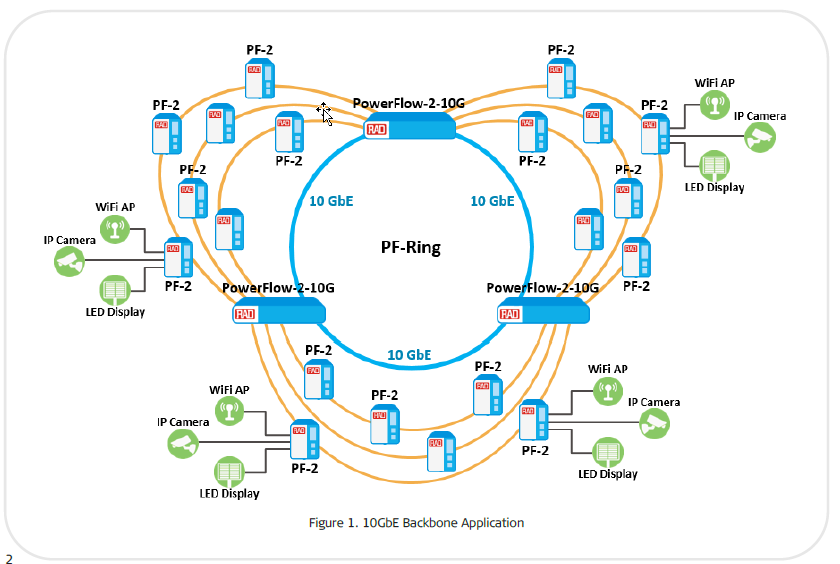 Standard configurations
PF-2-10G/ETR/48R/4SFPP/4SFP/24PH 48 VDC power supply, four 1G/2.5G/10G SFP+ ports, four 100/1000Base-X SFP ports, 24 10/100/1000 Base-T(X) ports, PoE+ (400W)
PF-2-10G/48R/4SFPP/4ETH/20SFP 48 VDC power supply, redundant 48VDC power supply, four 1G/2.5G/10G SFP+ ports, four 100/1000Base Combo (UTP/SFP) ports, 20 x 100/1000Base-X SFP ports
PF-2-10G/ACR/4SFPP/4ETH/20SFP Dual AC/DC power supply, four 1G/2.5G/10G Base-X SFP+ ports, four 100/1000Base Combo (UTP/SFP) ports, 20 x 100/1000Base-X SFP ports
PF-2-10G/ACDC/4SFPP/4ETH/20SFP 48VDC and high voltage AC/DC power supply, four 1G/2.5G/10G Base-X SFP+ ports, four 100/1000Base Combo (UTP/SFP) ports, 20 x 100/1000Base-X SFP ports

Data sheet for RAD PowerFlow-2-10G