RAD
RICi-4T1, RICi-4E1, RICi-8E1 and RICi-8T1
Fast Ethernet LANs over bonded E1 or T1 circuits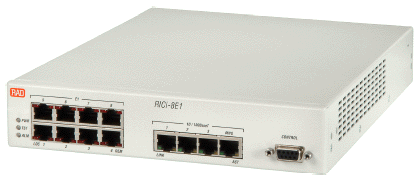 RICi-4T1, RICi-4E1, RICi-8E1 and RICi-8T1 are Network Termination Units (NTU) connecting Fast Ethernet LANs over four or eight bonded E1 or T1 circuits. They enable service providers to supply transparent Ethernet services. The devices can also be used for transparent connection of corporate LANs over existing E1 or T1 lines.

The RICi-4T1 and RICi-4E1 bond up to four E1 or T1 lines. The RICi-8E1 and RICi-8T1 bond up to eight E1 or T1 lines. These lines are bonded together using Multi-Link PPP (ML-PPP) creating a large virtual pipe. The devices can be used in a point-to-point application or in a hub-and-spoke topology, operating opposite the Egate-100 gateway. Typical applications include: Ethernet private Line/LAN services, IP DSLAM, cellular IP and WiMAX base station backhauling, Interoffice or enterprise LAN connection. VLAN tagging, stacking and striping option at ingress and egress enables transporting user traffic transparently, keeping all the user VLAN settings intact. In addition, the management traffic may be tagged with a different VLAN, fully separating user traffic from management data. The 802.1p and DSCP priority scheme RICi-4E1, RICi-4T1, RICi-8E1 and RICi-8T1 enable users to define four different QoS levels, according to the application requirements, providing high priority to real time applications such as voice and video.

The internal bridge of the RICi-4E1, RICi-4T1, RICi-8E1 and RICi-8T1 can be configured to filter or transparent mode. In filter mode, the bridge learns MAC addresses and filters local traffic accordingly. In transparent mode it forwards the received packets ignoring the MAC addresses. The devices support inband management (SNMP, Telnet, Web) via the Fast Ethernet user ports. Management traffic and user Ethernet traffic are transported together on the same Ethernet flow, separated by different VLANs, ensuring high traffic security. One of the 10/100BaseT ports can be configured as an out-of-band management port. Local management is supported via an ASCII terminal. Frame fragmentation allows the user to control the Maximum Transmit Unit (MTU) size. Different MTU sizes are used to achieve optimal throughput versus delay combination, according to the application requirements. In a non-fragmented mode the maximum single E1 or T1 line throughput is 1.95 Mbps or 1.49 Mbps, respectively. In a fragmented mode (250-byte frames) the maximum single E1 or T1 line throughput is 1.822 Mbps or 1.397 Mbps, respectively. The RICi-4E1, RICi-4T1, RICi-8E1 and RICi-8T1 compensate for a differential delay of up to 50 ms between traffic received on different circuits.


Additional information:

RAD RICi-4 and RICi-8 Data Sheet