RAD
RICi-T1, RICi-E1 Intelligent Converters
Stand Alone Unit for Fast Ethernet LANs Over T1 or E1 Circuits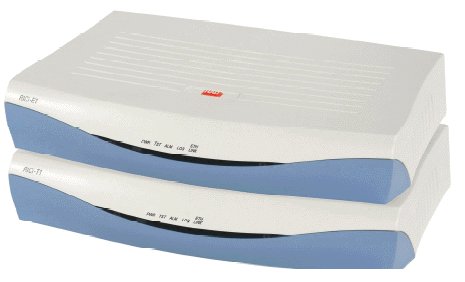 RICi-T1 and RICi-E1 are intelligent converters connecting Fast Ethernet LANs over T1 or E1 circuits. They enable service providers and ISPs to supply transparent Ethernet services, without interfering with user traffic.
RICi-T1 and RICi-E1 from RAD have one E1/T1 port and one 10/100BaseTx port. Packets are forwarded from the Ethernet network to the TDM network at wire speed, fully utilizing the expensive TDM circuit bandwidth.
The 802.1p priority scheme enables users to define four different QoS levels, according to the application requirements.
The Fast Ethernet bridge handles 1562-byte frames, supporting VLAN applications, and other protocols requiring large frame sizes. In filter mode, the bridge learns MAC addresses and filters local traffic, and in transparent mode it forwards any received packet.
VLAN stacking transports user traffic transparently, keeping the user LAN settings intact. In addition, the management traffic may be tagged with a different VLAN, fully separating user traffic from management data.
The DHCP client automatically obtains IP address, IP mask and default gateway, minimizing installation time.
The units feature fault propagation. When a TDM link failure is detected RICi-E1 and RICi-T1 shut down the user port.


RICi-T1 and RICi-E1 Management

RADview-Lite, RAD's SNMP-based element management software provides SNMP traps, status polling, and configuration download. Remote element management is available in RADview-Lite through ConfiguRAD Web-based application, or by Telnet.
The devices are managed inband from the Fast Ethernet user port or via the TDM port. Management traffic and user Ethernet traffic are transported together on the same Ethernet flow, separated by different VLANs, thus ensuring traffic security.


RICi-T1 and RICi-E1 Diagnostics

Remote and local loopbacks are used for problem isolation at the physical layer.
A built-in ping utility checks IP connectivity by pinging remote IP hosts.
A trace-route application quickly traces a route from RICi-E1 or RICi-T1 to any other network device.

RICi-T1 and RICi-E1 data sheet