RAD

SecFlow-1V Ruggedized Industrial Gateway
RAD SecFlow-1V ( SF-1V) IoT gateway for industrial applications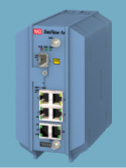 Key points to note about the IoT gateway are:

• Compact ruggedized IIoT gateway for serial and Ethernet devices
• Enhanced security capabilities: stateful firewall, VPNs, automated PKI
• Resilient HSPA+/LTE cellular network uplink for maximum service continuity with multiservice Ethernet and serial (RS 232/RS-485) interfaces
• Hosting of third-party software for customized applications (IIoT)
• Supporting SCADA IEC-101, IEC-104, Modbus, and DNP3 protocols
• Option for second cellular modem or Wi-Fi* (future)
• Ruggedized design for 61850-3 and IEEE 1613 (optional)


SecFlow®-1v is an industrial IoT gateway, a member of RAD's SecFlow suite of ruggedized Ethernet products. The RAD SecFlow-1v is an open platform hosting third-party software, besides its communication capabilities. The SecFlow-1v from RAD features four GbE Copper ports and one GbE SFP port, two serial RS-232 ports or one RS-232 plus one RS-485, PoE, and a cellular modem with two SIM cards for maximum link resiliency. SecFlow-1v supports third-party applications using Linux containers for quick introduction of new capabilities for Industrial IoT solutions. SecFlow-1v from RAD is equipped with serial interfaces for connectivity of legacy RTUs with new IP-based IEDs. SecFlow-1v gateway converts legacy IEC-101 protocol to IP-based IEC-104, enabling seamless communication from the IP SCADA to both the old and new RTUs. This provides a single box solution for multi-service applications and smooth migration to all-IP networks.
The SecFlow-1v gateway is designed for installation under harsh environmental conditions. It features DIN-rail mount, IP30 protection level, wide operating temperature range (-40°C to 75°C) without fans, and EMI immunity (IEC61850-3, IEEE1613).
MARKET SEGMENTS AND APPLICATIONS OF THE RAD SecFlow-1V
SecFlow-1v addresses the Industrial IoT, for example:

Distributed automation in secondary substations
Smart meter concentration
Water Resources Management
Smart Retail
Out-of-band management using cellular uplink
RAD SecFlow-1V INTEROPERABILITY
SecFlow-1v operates with SecurityGateway, SecFlow-1, and SecFlow-2.
ROUTER AND VPN SERVICES OF RAD SecFlow-1V
SecFlow-1v features static
routing
,
OSPF
,
BGP
, VRF and NAT/NAT-Traversal. The device features a
VPN
gateway
with two operation modes:
Inter-site connectivity using IPSec tunnels
For remote access, the router uses an SSH-encrypted tunnel, with user authentication and specific access authorization.
MANAGEMENT AND SECURITY OF RAD SecFlow-1V
The device can be managed via the SecFlow web-based interface (HTTP/HTTPS). SecFlow-1v also supports a variety of access protocols, including CLI, Telnet, and TFTP/SFTP.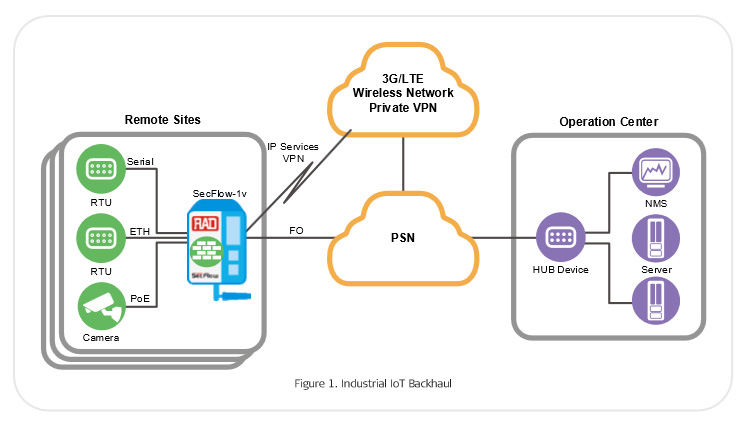 Specifications and recommended configurations
Data sheet for RAD SecFlow-1v