RAD

SFP-GPON-1DH Optical Network Terminal (ONT)
SFP-GPON-1DH by RAD
Key features of the RAD SFP-GPON-1DH Optical Network Terminal (ONT)

Compliant to FSAN G.984.2 specifications
Subscriber location identifier (SLID)
28 dB link budget, 20 km reach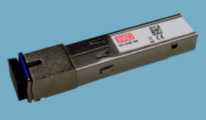 RAD SFP-GPON-1DH
SFP-GPON-1DH Optical Network Terminal integrates a bi-directional optical transceiver and GPON MAC functionality. When plugged into a Customer Premises Equipment (CPE), RAD SFP-GPON-1DH provides an asymmetric 1.244 Gbps upstream / 2.488 Gbps downstream GPON uplink to the CPE, without requiring separate power supply with standard SFP port directly.

SFP-GPON-1DH operates in TC Layer GEM encapsulation mode and provides Subscriber Location Identifier (SLID), PON Link Status notification and Dying Gasp notification.
MARKET SEGMENTS AND APPLICATIONS FOR THE RAD SFP-GPON-1DH
SFP-GPON-1DH features a sophisticated ONT management system, including alarms, provisioning, DHCP and IGMP functions for business customers and mobile backhaul applications.
SFP-GPON-1DH fits seamlessly into existing communications equipment, providing service providers with a smooth upgrade to GPON. It vastly decreases the installation costs of deploying fiber access in MDUs and enables service providers to improve their revenue streams, while decreasing OPEX.
SFP-GPON-1DH INTEROPERABILITY
SFP-GPON-1DH can operate with GPON OLTs from all known providers.

MANAGEMENT AND SECURITY OF THE RAD SFP-GPON-1DH
SFP-GPON-1DH can be managed from the OLT over the GPON using G.988 OMCI. When the OLT detects an anomaly, the unit shuts down TX power.

MONITORING AND DIAGNOSTICS
SFP-GPON-1DH provides standard digital diagnostics.

OPERATION AND MAINTENANCE
SFP-GPON-1DH provides PON link status, and dying gasp notifications.

OLT Configuration
To achieve the uplink connectivity to the services, SFP-GPON-1DH has to be provisioned on the OLT. Perform the following:
Insert SFP-GPON-1DH into the SFP slot.
Set the Autonegotiation mode on the physical port.
When SFP-GPON-1DH is up, it is discovered in the OLT under the New ONT section.
After SFP-GPON-1DH has been discovered, provision it on the OLT; configure all required parameters, such as VLAN association (S-VLAN, C-VLAN), bandwidth policing, and software information.
Verify connectivity by locating MAC addresses of the connected devices in the OLT MAC table.
Data sheet for RAD SFP-GPON-1DH