RAD
Vmux-110 Voice Trunking Gateway for Remote Sites
Solution Where Bandwidth Is Limited or Expensive Like Satellite Links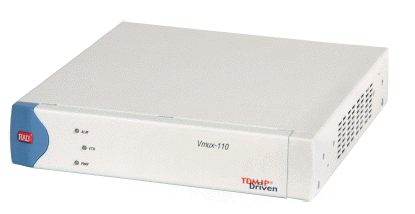 Key-Points of the RAD Vmux-110 Voice Trunking Gateway for Remote Sites
Vmux-110 is a customer-located device that complements RAD's larger modular Vmux-2100 system. It fulfills the need for a low capacity remote voice trunking gateway for both IP and leased line TDM networks. Vmux-110 is available with a choice of voice channels.

The voice interface of the Vmux-110 includes one of the following:
One E1 or T1 port, which receives E1 or T1 trunks from PBXs
Four or eight FXS/FXO/E&M analog ports that connect to POTS or faxes.

Vmux-110 compresses the voice traffic and transports it over either a serial TDM link, or a 10/100BaseT IP link. Vmux-110 employs G.723.1, G.729 Annex A and G.711 compression algorithms together with RAD's unique TDMoIP® multiplexing, including transparent CAS and CCS.

A second 10/100BaseT port is provided for connecting a user Ethernet LAN to the unit. Together with Vmux-110's integral Ethernet switch, this allows integrating the user LAN traffic with the compressed voice, over a single uplink (IP or serial) to the network.

An integrated router supports IP routing, Firewall, NAT, DHCP Server/Relay and static routing. The IP routing can be performed between the network, user, and serial ports.

To transfer voice as well as 10/100 Mbps Ethernet data over a TDM serial uplink with a small bandwidth (such as for satellite applications), the ingress data rate on both Ethernet ports of the Vmux-110 can be limited to one of several values between 128 kbps and 2 Mbps.

For deployment optimization, Vmux-110 with E1 or T1 voice ports can be ordered to compress 6, 12, 18, 24 (for full T1 trunk) or 30 timeslots (for full E1 trunk). Each timeslot carries a single digital voice channel.

Vmux-110 is a compact, 1U high, 1/2 19" wide unit that can be mounted in standard 19" racks.
Voice Activity Detection (VAD) and silence suppression allow Vmux 110 units to dynamically allocate bandwidth for voice traffic. This results in efficient bandwidth usage, leaving more bandwidth for data transport. By preventing packets from being sent when no voice activity is
detected, the VAD mechanism conserves bandwidth. The improved bandwidth utilization enables Vmux-110 to support a higher number of channels than is possible by using conventional voice compression methods alone. By performing TDMoIP® multiplexing and grouping the timeslots of G.723.1 compressed voice into bundles with a common IP address, the actual link bandwidth can be reduced to as low as 4 kbps per channel (a reduction of 16:1).
Vmux-110 data sheet