Transition Networks
F-SM-MM-02 Stand-alone Media Converter, single mode to multi mode fiber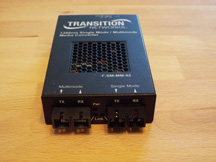 Transition Networks F-SM-MM-02 Stand-alone Media Converter, single mode to multi mode fiber
1300nm multimode (SC) [2 km/1.2 mi.] Link Budget: 11.0 dB to
1300nm single mode (SC) [20 km/12.4 mi.] Link Budget: 16.0 dB


The Transition Networks F-SM-MM-02 media converter can:
Extend Network Distance: Extend distances up to 20 km with network protocols that use 1300nm wavelength for fiber optic transmission. In fact, distances can be extended in any networking protocol between 100 Mbps and 155 Mbps.

Save money by purchasing Fast Ethernet devices with lower cost multimode fiber interfaces and use converters to introduce single mode fiber only where you need it.
Stand-alone Fiber to Fiber Media Converter, single-mode to multi-mode
Fiber to Fiber for Data Rates from 100Mbps to 155Mbps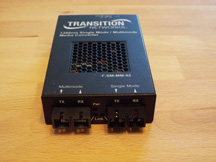 Specifications of the F-SM-MM-02:

Standards
IEEE 802.3
Status LEDs PWR (Power): Steady green LED indicates connection to external AC power
LKM or Link (Left): Lit for multimode Link
LKS or Link (Right): Lit for single mode Link

Dimensions of this Transition Networks F-SM-MM-02 are:
Width: 3" [76 mm]
Depth: 4.7" [119 mm]
Height: 1" [25 mm]

Power Supply External AC/DC required; 12 VDC. 0.5A Output;
120-240VAC input; unregulated; standard

Environment parameters for this Media Converter
Operating: 0°C to 50°C
Humidity: 5% to 95% (non-condensing)
Altitude: 0 – 10,000 ft.

Weight 2 lbs. [0.90 kg]

Compliance of the F-SM-MM-02 Stand-alone Media Converter, single mode fiber to multi mode fiber 
Safety: Wall Mount Power Supply:
UL Listed and CSA certified;
CISPR/EN55022 Class A, EN55024, EN61000, FCC
Class A, CE Mark

The Transition Networks F-SM-MM-02 Stand-alone Media Converter, single mode to multi mode fiber  Warranty Lifetime


Data sheet for Transition Networks F-SM-MM-02 fiber media converter