Transition Networks
MIL-SM2401MAF 24-port 10/100 Power-over-Ethernet PoE Layer 2 Remotely Managed Switch

The MIL-SM2401MAF from Transition Networks - Milan is a 24-port 10/100 Power-over-Ethernet Layer 2 Remotely Managed Switch.

(24) 10/100 ports + (2) SFP/RJ-45 Combo ports

MIL-SM2401MAF Key points:
Managed PoE Switch
24 ports with full PoE functionality; power limit per classification
High Back-plane bandwidth of 8.8Gbps
IGMP v1, v2
Auto-MDIX on all ports
Port Mirroring

Features of the Transition Networks MIL-SM2401MAF include:
15.4W POE per port available to 12 ports
7.7W POE per port available to 24 ports
Enable/Disable PoE function
Power limit by classification
Power limit by management power feeding priority
Legacy Power Signature Detection for unique electrical signatures
Auto-Negotiation
True non-blocking switching
8K MAC address table
Back pressure and flow control
Store and forward switching architecture
384Kbytes memory buffer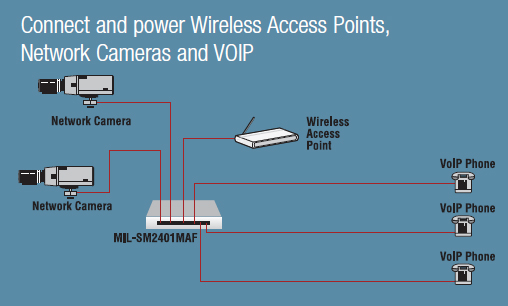 MIL-SM2401MAF Management: Console port, Web-based GUI, telnet and SNMP
Firmware update: TFTP firmware upgrade
Port Trunk: Supports IEEE 802.3ad with LACP function. Up to 7 trunk groups and group member up to 4.
VLAN: Supports port based VLAN, up to 256 static VLAN groups and up to 2048 dynamic VLAN groups.
VLAN tagging up to 4094. Compatible with IEEE 802.1Q and IEEE 802.1v
Quality of Service: Support port based, Tag based and IPv4 ToS
Class of Service: Supports 802.1p class of service with 2-level priority queuing.
Spanning Tree: Supports IEEE 802.1w rapid spanning tree and IEEE 802.1d spanning tree.
Port Mirror: Supports RX, TX and Both packet mirror
IGMP: Supports IGMP V1, V2
Broadcast Storm: Only allows a percentage of port's total bandwidth before broadcast traffic is dropped.
Enable/Disable, 5%, 10%, 20%, 25%

The MIL-SM2401MAF Power-over-Ethernet series of layer 2 managed switches provides high performance
non-blocking switching. The switch has (24) autosensing 10/100 auto MDI/MDIX ports with full PoE
functionality. The switch also has (2) SFP Gigabit ports.

Management features include port based, dynamic and static VLANs, GVRP, IGMP, port mirroring, and port
security. Security includes static addressing, filtering and blocking of packets to identified MAC address. Two
priority queues per port insure minimum delay for voice over IP or multimedia network data. Console port
provides local management while Telnet and Web-based management is provide via any network device.

Non-blocking 8.8Gbps architecture assures rapid packet delivery while 8,000 MAC address table provides
swift lookup and packet forwarding.

Other ASIC features that enhance performance are included such as 802.1d spanning tree, 802.3x flow
control, 802.3ad link aggregation and broadcast storm control.

MIL-SM2401MAF 24-Port 10/100 POE Transition Networks Managed Switch product data sheet