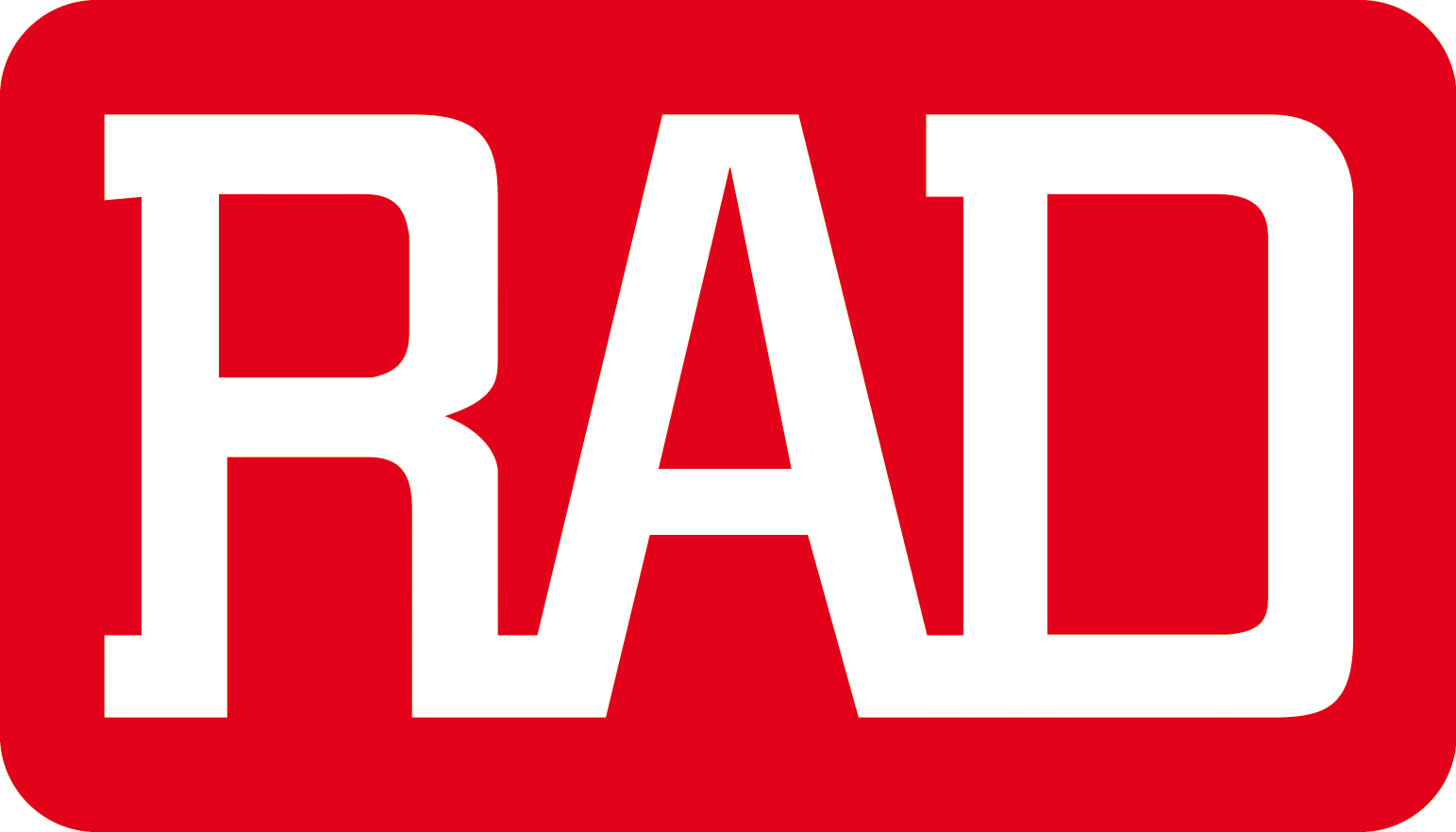 ACE-2002, ACE-2002E Multiservice Access Concentrators / ATM Network Termination Units from RAD
ACE-2002 and ACE-2002E are multiservice access concentrators that can be used as carrier-owned demarcation devices or as concentrators connected to the public ATM network. As a demarcation device, RAD ACE-2002 and ACE-2002E enable carriers and service providers to define the boundary between their ATM public services and the customer's network. A clear demarcation point at the customer premises increases service reliability, improves network efficiency and ensures end-to-end QoS support.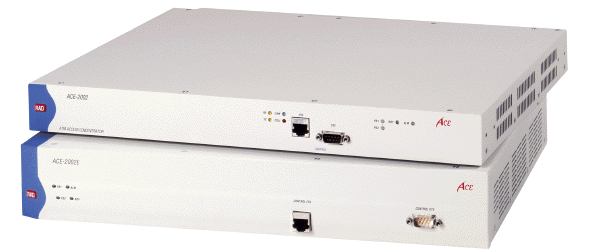 Carriers and service providers can use ACE-2002E to aggregate traffic from 2G/2.5G and 3G cellular base stations by using its combination of TDM (CES) ATM UNI and IMA support. By using its powerful traffic management capabilities, cellular operators can benefit from end-to-end QoS while efficiently utilizing network resources. The extensive ACE-2002E OAM support reduces operational costs using end-to-end network management.

Operators can benefit from ACE-2002E by reducing the number of radio access links needed to connect the cellular base stations to the terrestrial network thus cutting down transport costs.



ACE-2002E and ACE-2002 can be used as demarcation devices for native ATM or for legacy services, such as voice, LAN, Frame Relay or HDLC.

ACE-2002 and ACE-2002E extend ATM network facilities up to the customer premises. These facilities include: advanced traffic management (shaping, policing) and full OAM flow support. In addition, the wide range of ATM modules further enhance the flexibility of service offerings.

When used as interworking devices, ACE-2002 and ACE-2002E smooth migration of legacy traffic, such as PBXs and routers, to ATM networks. Using multi-port modules and up to three user slots, ACE-2002 and ACE-2002E can be used as concentrators for medium to large corporations. The units enable different types of corporate traffic to pass over public networks in the most efficient way.

ATM CAPABILITIES OF THE RAD ACE-2002 AND ACE-2002E
ACE-2002 and ACE-2002E support both NNI and UNI cell headers with full bit range of VPI/VCI fields. ACE-2002, ACE-2002E support up to 1024 connections, VPC and/or VCC. Thus RAD ACE-2002, ACE-2002E can be used as concentrators for large corporate networks or as a junction point between two public networks.

To increase versatility in QoS definition, ACE-2002 and ACE-2002E include VP tunneling. This enables bundling multiple VCCs into a single VPC, while maintaining all the VCC QoS characteristics and OAM
capabilities at F4 and F5 layers.

ACE-2002 and ACE-2002E support up to 30 VP tunnels. Each tunnel is shaped as a CBR connection. It can be defined with end-to-end OAM flow and act as a regular VP in the public network.

ACE-2002 and ACE-2002E support Call Admission Control (CAC), which prevents network congestion, by checking the network resources when a request to open a new connection is received. If the network resources are insufficient, the request for a new connection is rejected.

ACE-2002 AND ACE-2002E TRAFFIC MANAGEMENT
ACE-2002 and ACE-2002E can operate in the following modes:

Monitoring: The units monitor and gather statistical information on the violations of the traffic contract.

Policing: The units compare the user traffic with the Service Level Agreement (SLA) parameters. If the user traffic exceeds the SLA parameters, violating cells can be tagged or discarded.

Shaping: Both user and network operator benefit from shaping bursty traffic. For the user, more traffic can pass through the link at no additional cost. For the operator, shaping enables better statistical efficiency while keeping the same backbone equipment and QoS.

ACE-2002 and ACE-2002E support a number of layers of traffic scheduling. The layers are set per VC, per VP, per VP tunnel and per user interface.

ACE-2002 AND ACE-2002E ENHANCED RELIABILITY
ACE-2002 and ACE-2002E can optionally provide two redundant ATM interface modules with physical link protection. Switch over between the modules is based on G.783 Annex A and Annex B.

All RAD ACE-2002 and ACE-2002E modules can be hot swapped. In case of hot swapping the same module type, all module configurations are saved and service is easily and quickly resumed.

ACE-2002 and ACE-2002E can optionally be ordered with two redundant hot-swappable power supplies.

ACE-2002E and ACE-2002 OEM
The OAM functionality, intrinsic to the ATM technology, provides end-to-end manageability, allows fault localization and helps reduce operational costs. ACE-2002 and ACE-2002E support segment and end-to end OAM functionality complying with I.610. OAM functionality is provided on SONET/SDH (F1 and F3) and ATM (F4 and F5) levels and includes:

AIS/RDI – System indicators for faulty conditions in the network. If these indicators are detected in the user or network modules, ACE-2002 and ACE-2002E alert the network management system.

Continuity Check (CC) – Used to check service availability. ACE-2002 and ACE-2002E send a CC cell periodically over a predefined VP or VC and verify that the VP or VC is intact.

Loopback – Using the loopback option, ACE-2002 and ACE-2002E can measure minimum, maximum and average delay and delay variation. The loopback function can also be used for fault isolation. The loopback cells can be sent with source and destination address and may be looped at any network element pre-assigned with a loopback point address.

Performance Monitoring (PM) – The OAM PM mechanism provides values for multiple parameters of the ATM service characteristics such as cell loss, cell error rate severely errored seconds and more.

ACE-2002 and ACE-2002E STATISTICS COLLECTION
ACE-2002 and ACE-2002E collect statistic information on the physical layer, ATM layer and ATM adaptation layer (AAL5). The statistic information is sent to the network management station and can be used for SLA reports and diagnostics.

ACE-2002 and ACE-2002E INTERWORKING
To send long frames (mainly IP traffic) over ATM networks efficiently, ACE-2002 and ACE-2002E support Early Packet Discard (EPD) and Partial Packet Discard (PPD) mechanisms. If cells are lost or discarded, and are part of a long frame, ACE-2002 and ACE-2002E can drop the rest of
the cells that belong to the same frame. This prevents overload of the network resources by non valid cells.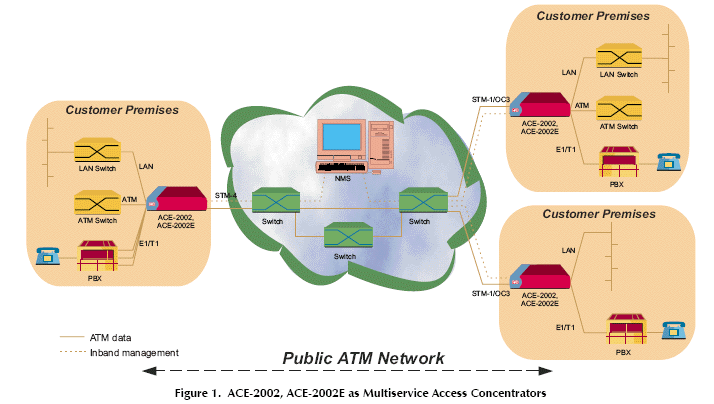 ACE-2002E and ACE-2002 MANAGEMENT
ACE-2002 and ACE-2002E can be managed either locally or remotely using different ports and applications:

ACE-2002 and ACE-2002E can be managed locally, by connecting an ASCII terminal to the RS-232 port on the front panel. The same port can be
used to connect a dial-up modem so ACE-2002 and ACE-2002E can be remotely managed. ACE-2002 and ACE-2002E support PPP protocol for SNMP management over RS-232.

ACE-2002 and ACE-2002E can be managed locally via a dedicated Ethernet port, located on the front panel.

A network management station located anywhere in the ATM public network can be connected to a remote customer device and perform configuration, monitoring and diagnostics using a dedicated VC.

ACE-2002 and ACE-2002E can be managed by and report to up to 8 different management stations simultaneously. This enables viewing the network status from different locations.

ACE-2002 and ACE-2002E feature plug & play functionality, which allows installation of the device with no on-site pre-configuration required.

The RADview-HPOV network management application monitors, configures, fault isolates and presents network statistics using a graphical, user-friendly display. This UNIX-based application alerts in real time on service availability and faulty network conditions. The real time clock of the management application is synchronized with all the managed units. This enables to determine the real time of events for sorting events chronologically. Also, the statistical collection of events can be synchronized so that the 15-minute intervals of statistical information can be sorted in a realistic sequence. The system events and the statistical information are registered in a log file. The RADview application can store a complete pre-defined configuration of ACE-2002, ACE-2002E to shorten and simplify its field installation. After ACE-2002, ACE-2002E are installed, it is possible to remotely download the complete configuration from anywhere in the network.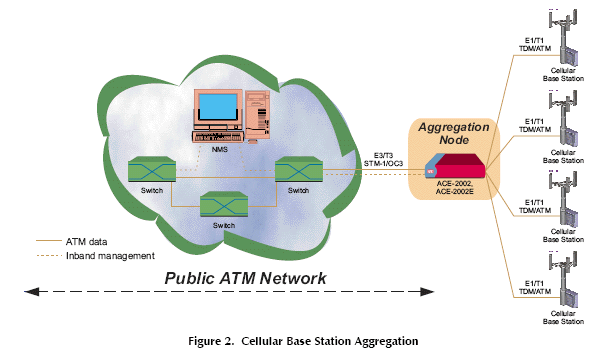 ACE-2002, ACE-2002E product data sheet (pdf)
Most commonly ordered:
ACE-2002/48 1230030000
ACE-2002/48/R 1230040000
ACE-2002/48/R/SPR 1230060000
ACE-2002/48/SPR 1230050000
ACE-2002/AC 1230010000
ACE-2002/AC/R 1230020000
ACE-2002/AC/R/SPR 1230080000
ACE-2002/AC/SPR 1230070000
ACE-2002/PS/AC 1230390000
ACE-2002/PS/DC 1230400000
ACE-2002E/48 1420010000
ACE-2002E/48/R 1420020000
ACE-2002E/AC 1420030000
ACE-2002E/AC/R 1420040000
ACE-2002E/PS/24DC 1420090000
ACE-2002E/PS/48 1420060000
ACE-2002E/PS/AC 1420050000