ETX-5 Ethernet Service Aggregation Platform
ETX-5 Ethernet Service Aggregation Platform manufactured by RAD and distributed by Cutter Networks.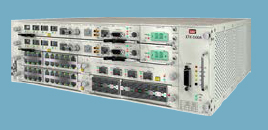 A few points about the ETX-5 include:
• Feature-rich CE2.0-certified aggregation platform, offering a cornerstone for service assured access (SAA) solution
• Ideal for carriers, wholesalers and mobile operators, building fully redundant networks with diverse topologies for delivery and monitoring of MEF-certified Ethernet and TDM-over-packet services
• Unmatched level of resiliency with self-healing Ethernet rings and LAG, enhanced traffic management capabilities for fully color-aware networks
• Hardware-based OAM and diagnostics for scalable and accurate traffic monitoring, quick fault detection and user-friendly troubleshooting
• Easy service provisioning, using Service Manager application and performance monitoring portal
• Can be used to create a 10 GbE ring

The ETX-5 Carrier Ethernet aggregation platform, together with the RAD ETX-2 Carrier Ethernet demarcation device, are the main component of RAD's Service Assured Access solution, providing SLA-based services, Ethernet business offerings, legacy TDM service emulation and mobile backhaul. With the ability to be connected in a 10 GbE ring, it is ideal for carrier-to-carrier connectivity applications complying with MEF 26, as well as for high capacity grooming of Ethernet OAM and performance monitoring sessions. This 3U modular system features high port density for space-restricted facilities.

ETX-5 features non-blocking architecture, allowing wire-speed forwarding for all packet sizes. It is designed for high availability and "Always-On Service".

Operating over various network topologies (linear, daisy chain, and self-healing G.8032v2 rings), RAD ETX-5 builds a complete color-aware access network solution.

ETX-5 provides CE2.0-certified Ethernet services including:
• E-Line (EPL and EVPL) for LAN-to-LAN, VoIP and IP-VPN connectivity, as well as for storage and dedicated Internet access
• E-LAN (EP-LAN and EVP-LAN) for multipoint Layer-2 VPN, transparent LAN services and multicast networks
• E-Tree (EP-Tree and EVP-Tree) for combining multiple Ethernet technologies across different domains
• E-Access for reaching the service provider's out-of-franchise subscriber locations as part of the end-to-end service
• 2G, 3GPP, LTE and LTE-A transport.

ETX-5 INTEROPERABILITY
ETX-5 is interoperable with RAD's intelligent Ethernet demarcation devices (ETX-2, ETX-1, MiNID), and TDM pseudowire gateways (IPmux), to build optimized access networks – both TDM and packet-based – over PSN.

CARRIER ETHERNET 2.0
ETX-5 incorporates a complete set of CE 2.0-certified Ethernet service tools that allow the service provider to distinguish between high- and low-priority traffic, and to optimize TCP sessions.

Traffic Management with the RAD ETX-5
ETX-5 efficiently handles multi-priority traffic on a per-flow basis. Its 120-Gbps capacity enables simultaneous processing of thousands of flows, allowing service providers to deploy true traffic-engineered, color-aware networks. The powerful H-QoS traffic manager performs hierarchical scheduling and shaping at port-, tunnel- and EVC-level. It employs two-rate, three-color policers and advanced color mapping/marking techniques to deliver a true multi-CoS solution. Multi-curve WRED profiles assure CIR traffic priority over EIR.

ETX-5 OAM
Hardware-based OAM mechanism with Up and Down MEP support provides enhanced scale of line-rate CCM/DMM/LMM measurement for end-to-end service assurance.

RESILIENCY of the ETX-5
ETX-5 functions as a fully-redundant aggregation and demarcation point that enables end-to-end visibility and smooth service hand-off. ETX-5 offers various tools to ensure continuous availability and sub-50 ms restoration in the event of network outages.

The following port and service protection mechanisms are employed: LAG, ERP (G.8032v2), Ethernet protection grouping (dual homing), TDM APS.

Fault-tolerant hardware design with fully redundant timing, management and power sub-systems, prevents service downtime.





Common ordering ETX-5 part numbers include:
Chassis:
ETX-5300A/AC Chassis with fan unit, AC power supply and AC power inlet
ETX-5300A/ACDC Chassis with fan unit, AC and DC power supplies, AC and DC power inlets
ETX-5300A/ACR Chassis with fan unit, two AC power supplies and two AC power inlets
ETX-5300A/DC Chassis with fan unit, DC power supply and DC power inlet
ETX-5300A/DCR Chassis with fan unit, two DC power supplies and two DC power inlets
Main and I/O Cards:
ETX-5300A-MC/4 XFP/AT Main card with four 10GbE ports, XFP slots, advanced timing capabilities
ETX-5300A-ETH/20XGE/SFP GbE card with 20 GbE ports, SFP slots
ETX-5300A-ETH/20XGE/UTP GbE card with 20 GbE ports, UTP
ETX-5300A-ETH/2X10GE/XFP 10GbE card with two 10GbE ports, XFP slots
ETX-5300A-MS/CH/S4 SDH/SONET card with four channelized STM-1/OC-3 ports, SFP slots
ETX-5 product data sheet (pdf)

Give us a call about creating a 10 GbE ring in your application.