RAD Gmux-2000 ( chassis GMUX-2000-SYS/A )- Central Office TDMoIP Gateway key features:
High-capacity T1 gateway for extending TDM-based services over packet-switched networks (Ethernet,IP and MPLS)
Transports up to 196 individual E1/T1 links or two channelized STM-1/OC-3, over two Gigabit Ethernet (GbE) network uplinks
Modular chassis with up to two GbE network modules and seven I/O modules
Fully redundant hardware, including all system and service modules
Centralized SNMP-based management, using RADview-SC/TDMoIP
The RAD Gmux-2000 ( chassis GMUX-2000-SYS/A ) is a compact, cost-effective, modular TDMoIP® gateway that provides a high capacity central office solution for transporting multiple E1/T1 links over IP, Ethernet and MPLS-based networks.

Gmux-2000 is available with a choice of STM-1/OC-3 or E1/T1 interfaces. For extending TDM/PDH services over packetswitched networks (PSN), it can relay, concentrate and groom TDMoIP traffic using its STM-1/OC-3 channelized interfaces. Alternatively, Gmux-2000 can extend up to 196 individual E1 or T1 trunks over the PSN.

Gmux-2000, coupled with IPmux-1E, IPmux-11, IPmux-14, IPmux-16 or Megaplex ML-IP, offers a complete, cost-effective TDMoIP central site solution.

System description of the RAD Gmux-2000
Gmux-2000 comes in a 6U-high chassis, mountable in a 19" ETSI or ANSI rack.
Gmux-2000 employs a double StarLAN backplane with the ability to interconnect two full Gigabit Ethernet trunks with any of the installed I/O modules. Two telecom buses interconnect between the I/O modules.

The Gmux-2000 chassis includes slots for the following hot-swappable modules:
• Two Gigabit Ethernet network uplink modules
• Two common logic modules
• Three AC/DC power supply modules
• Seven I/O modules (E1/T1 interface, STM-1/OC-3 interface, and E1/T1 CE server types)
• Cooling fans module
Gigabit Ethernet network modules each with a pair of redundant Gigabit Ethernet (GbE) ports. The GbE links support Ethernet IEEE 802.3, 802.1Q (VLAN tagging) and 802.1P (priority/class of service)
E1/T1 TDMoIP modules in the Gmux-2000 provide conversion of E1/T1 traffic flows for transmission over the packet network via the RAD Gmux-2000 GbE network module. Several versions of TDMoIP module are available:
E1/T1 interface modules with 28 external E1 or T1 interfaces for applications where individual E1/T1 ports are needed to interface with TDM devices.
E1/T1 Circuit Emulation (CE) server modules are used in conjunction with the STM-1/OC-3 interface modules. The E1/T1 CE server modules are used to extract 21 E1 or 28 T1 internal channels coming from the STM-1/OC-3 interface module and convert them to TDMoIP traffic flows.

STM-1/OC-3 interface modules perform SDH/SONET multiplexing/demultiplexing of channelized STM-1/OC-3 trunks into separate, internal E1/T1 circuits (for TDMoIP encapsulation by CE server modules). Each STM-1/OC-3 interface module provides a pair of ITU-T G.703 coax or G.957, G.958 fiber optic links, supporting 1+1 redundancy.
 
Common logic modules of the Gmux-2000 ( GMUX-M/CL) provide the SNMP agent, human interface and database storage for configuration and control of the entire Gmux-2000 system. These modules are equipped with an RS-232 port , and a 10BaseT port for out-of-band management. Each CL module provides redundant interfaces for connecting external G.812 station clocks and for alarm inputs/outputs.
 
Power supplies of the RAD Gmux-2000 are hot-swappable plug-in modules. Up to three AC/DC power supply modules can be installed for load-sharing and redundancy. Two modules are required to drive a fully equipped Gmux-2000 system.

RAD Gmux-2000 Management:
As Gmux-2000 is part of an overall solution for transferring TDM bundles over IP, MPLS or Ethernet networks end-to-end from the CPE to the point-of-presence (POP) or to the central office (CO), management of the entire system should ideally be performed using a single management application. This unified management application, RADview Service Center TDMoIP, combines a user-friendly interface with both element and network management level capabilities.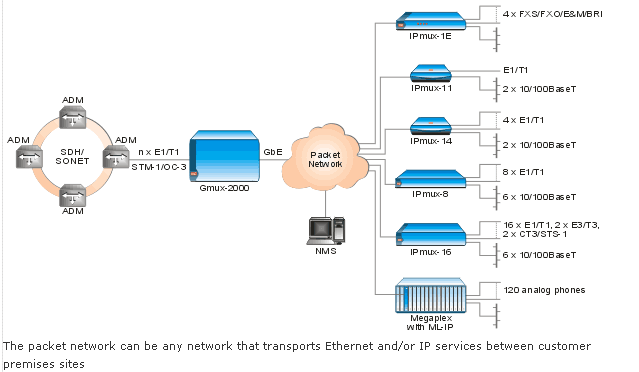 GMUX-2000 System:

GMUX-2000-SYS/A Base Chassis
GMUX-M/FANS Fans
GMUX-M/CL Common Logic

G-Mux 2000 Power:

GMUX-M/PI/AC
GMUX-M/PS/AC

GMUX-M/PI/48
GMUX-M/PS/48

GMux 2000 Ethernet:

GMUX-M/GE/MM85LC
GMUX-M/GE/SM13LC


GMUX-M/GE/SFP-6