RAD
IPMux-1E TDMoIP Gateway for Transporting E&M and More Over IP
TDM Pseudowire Access Stand Alone Unit

IPmux-1E from RAD is a TDMoIP gateway for transporting E1/T1, ISDN BRI, and FXS/FXO/E&M services over IP and Ethernet-based networks. The most common application in which Cutter Networks has used the IPmux-1E is to transport E&M over IP. The IPmux-1E converts the data stream from the user ports to packets for transmission over the packet-switched network. The addressing scheme of these packets is IP. These packets are transmitted via the IPmux-1E Ethernet port to the network. A remote TDMoIP gateway converts the IP packets back to TDM traffic.

A powerful internal Layer-2 Ethernet switch built in the IPmux-1E from RAD provides a user Ethernet port with rate limiting and port-based VLAN tagging capabilities.

The IPmux-1E supports standard IP features, such as ICMP (ping), ARP, next hop and default gateway capabilities.

Figure 1 shows a point-to-point application extending analog phone service to a remote PBX, and providing LAN-to-LAN communication over a shared fiber optic, UTP or coaxial cable.

Figure 2 shows a multi-tenant office building where a variety of legacy TDM services (ISDN, E1/T1, and analog phones) are provided by IPmux-1E units connected to IPmux-16 and Megaplex-2100 with ML-IP via an IP network.


IPmux-1E Performance

IPmux-1E achieves end-to-end processing delay as low as 3 msec, using high-performance buffering and forwarding techniques.

IP packet size is configurable. A greater packet length results in greater processing delay, yet smaller bandwidth overhead is achieved. An enhanced buffering mechanism compensates for network packet delay variation (jitter) of up to 300 msec. An optional internal echo canceller improves voice quality when a large end-to-end delay exists on the TDMoIP link.


IPmux-1E QoS support


VLAN
tagging and priority labeling are supported according to 802.1p&Q.
TDMoIP
frames are assigned (tagged) a dedicated
VLAN
ID
.
VLAN
membership allows:
Management traffic to run over a dedicated
VLAN
User data traffic to be filtered according to a set of up to 15
VLANs
.
The user can configure the ToS or Diffserv of the outgoing
TDMoIP
packets. This allows the
TDMoIP
packets to be given a higher priority by
network
switches
and routers.
Assigned, IANA-registered
UDP
socket
number for
TDMoIP
simplifies flow classification through
switches
and routers.
Rate limiting can be applied on the
Ethernet
user
port
to control the maximum traffic rate transmitted towards the
IP/Ethernet
network
.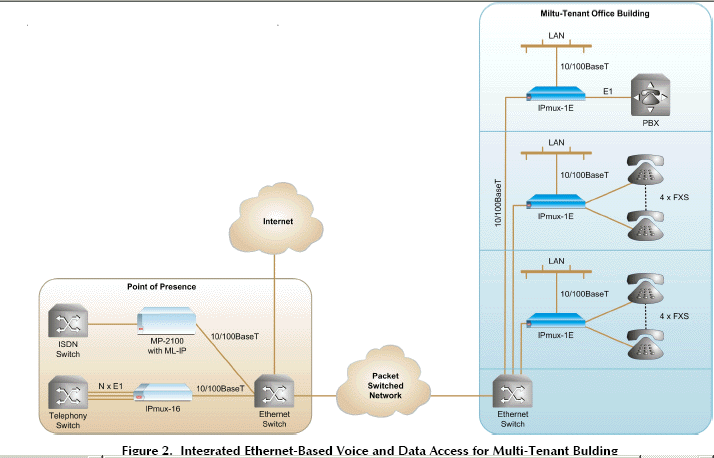 IPmux-1E Timing


Synchronization between
TDM
devices is maintained by using advanced
clock
distribution mechanisms. The clocking options are:
Internal – the master
clock
source for the
TDM
circuit is provided by the IPmux-1E internal
clock
oscillator
Loopback – the transmit
clock
is derived from the
E1/T1
port
receive
clock
Adaptive – the
clock
is recovered from the
Ethernet
network
interface
External – an external
clock
source is used to synchronize the device via its station
clock
port
.
The external
clock
port
provides out-of-band synchronization.
IPmux-1E Ethernet ports


IPmux-1E supports the following Ethernet ports:
One network port (copper or fiber optic)
One user port (copper)

E1 or T1 PORT
One standard E1 or T1 port for connectivity to any standard E1 or T1 device.

E1 and T1 interfaces support the following:
Integral LTU/CSU for line protection and long haul applications
G.703 unframed and G.704 framed modes
CAS
CRC-4 bit generation (E1).

An internal 16-msec echo canceller for the E1 and T1 ports is available.

IPmux-1E ISDN BRI S0 PORTS

Four standard ISDN basic rate S0 ports provide connectivity to any Network Termination (NT) or Terminal Equipment (TE) ISDN device.

The phantom feeding function enables IPmux-1E to power the remote user equipment (NT mode).

Each S0 port supports remote and local digital loopback test modes.


Analog ports of the IPmux-1E


IPmux-1E offers four
FXS
,
FXO
, or E&M
analog
ports.
An internal 16-msec echo canceller for the
analog
ports is available.
IPmux-1E Diagnostics


External and internal loopbacks can be used to check the TDM links connectivity.

The following physical layer alarms are supported:
E1/T1 LOS, AIS, LOF, LCV
ISDN S0 LOF
FXS/FXO/E&M port status

IPmux-1E provides end-to-end alarm generation and end-to-end AIS indication. When a local E1 or T1 port receives AIS, it is passed to the remote port via the Ethernet/IP network. If a local Ethernet port is not connected, AIS indication is generated both in the local and the remote devices.

An internal built-in test (BIT) is performed after power-up. The results of the test are visible via the local terminal.

IPmux-1E monitors LAN and IP layer network condition statistics, such as packet loss and packet delay variation (jitter). The events are stored in log files.

IPmux-1E management:

Configuration and monitoring are performed locally via an ASCII terminal, or remotely via Telnet, or RADview.

Software download is supported via the local terminal, using XMODEM, or remotely, using TFTP. After downloading a new software version, IPmux-1E automatically saves the previous version in non-volatile memory for backup. Similarly, copies of the configuration file can be downloaded and uploaded to a remote workstation for backup and restore purposes.

RADview Service Center TDMoIP network management application provides TDMoIP service and manages the TDMoIP devices via a user-friendly graphical interface that allows monitoring and configuring multiple IPmux devices. Fault isolation, statistics and event gathering are available. The intuitive GUI, "point-and click" functionality and easy-to-follow wizards increase the efficiency and accuracy of the service provisioning process.

---
IPMux-1E data sheet