Transition Networks

SCSCF30 xx-11x DS3-T3/E3 Coax to Fiber NID
The SCSCF30 xx-11x NID from Transition Networks is used to extend a T3, DS3 or E3 over fiber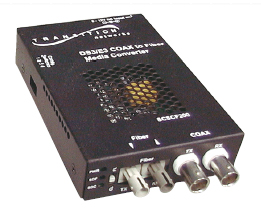 The SCSCF30 xx-11x DS3 – T3 / E3 & STS-1 copper to fiber network interface device (NID) provides a solution for those users that need to extend T3 , DS3 or E3 connections over fiber.

The SCSCF3040-110 DS3 – T3/E3 & STS-1 supports Small Form Pluggable (SFP) transceivers to support a variety of fiber types, distances and wavelengths to provide maximum flexibility across a variety of network topologies. The use of Coarse Wave Division Multiplexing ( CWDM ) SFP s can be utilized to further increase the bandwidth capacity of the fiber infrastructure.

The DS3 – T3/E3 & STS-1 NID must be used in pairs*. A typical installation will include a chassis card [CCSCF, pg 90] installed in the Point System™ locally and a stand-alone device installed at the remote location.
Some of the features of the Transition Networks SCSCF30 xx-11x NIDs include:

AIS (Alarm Indication Signal)
Coax Line Build Out
Switch selectable for DS3/T3 or E3
Loopback – Coax and Fiber
LEDs for immediate visual status
Supports dual or single fiber
Supports multimode and single mode fiber at a variety of distances
Supports CWDM SFPs

Dual fiber models:
SCSCF3011-110 (2) Coax (BNC) to 1300nm multimode (ST) [2 km/ 1.2 mi.] Link Budget: 14.0 dB
SCSCF3013-110 (2) Coax (BNC) to 1300nm multimode (SC) [2 km/ 1.2 mi.] Link Budget: 14.0 dB
SCSCF3014-110 (2) Coax (BNC) to 1310nm single mode (SC) [20 km/12.4 mi.] Link Budget: 19.0 dB
SCSCF3015-110 (2) Coax (BNC) to 1310nm single mode (SC) [40 km/24.9 mi.] Link Budget: 29.0 dB
SCSCF3016-110 (2) Coax (BNC) to 1310nm single mode (SC) [60 km/37.3 mi.] Link Budget: 32.0 dB
SCSCF3017-110 (2) Coax (BNC) to 1550nm single mode (SC) [80 km/49.7 mi.] Link Budget: 29.0 dB
SCSCF3040-110 (2) Coax (BNC) to SFP slot (empty)

Single Fiber Products
Recommended use in pairs. The RX frequency on one end of the link must match the TX on the other end of the link.
SCSCF3029-110 (2) Coax (BNC) to 1310nm TX/1550nm RX single fiber single mode (SC) [20 km/12.4 mi.] Link Budget: 19.0 dB
SCSCF3029-111 (2) Coax (BNC) to 1550nm TX/1310nm RX single fiber single mode (SC) [20 km/12.4 mi.] Link Budget: 19.0 dB
SCSCF3029-112 (2) Coax (BNC) to 1310nm TX/1550nm RX single fiber single mode (SC) [40 km/24.9 mi.] Link Budget: 25.0 dB
SCSCF3029-113 (2) Coax (BNC) to 1550nm TX/1310nm RX single fiber single mode (SC) [40 km/24.9 mi.] Link Budget: 25.0 dB
SCSCF3029-114 (2) Coax (BNC) to 1310nm TX/1550nm RX single fiber single mode (SC) [60 km/37.3 mi.] Link Budget: 29.0 dB
SCSCF3029-115 (2) Coax (BNC) to 1550nm TX/1310nm RX single fiber single mode (SC) [60 km/37.3 mi.] Link Budget: 29.0 dB
SCSCF3029-116 (2) Coax (BNC) to 1310nm TX/1550nm RX single fiber single mode (SC) [80 km/49.7 mi.] Link Budget: 33.0 dB

Optional Accessories (sold separately)

Power Supplies - Wide Input (24 - 60 VDC)
SPS-2460-PS Piggy Back Power Supply
SPS-2460-SA Stand-Alone Power Supply

Mounting Options:
E-MCR-05 12-slot Media Converter Rack
WMBD DIN Rail Bracket 5.0" [127 mm]
WMBD-F DIN Rail Bracket (flat) 3.3" [84 mm]
WMBL Wall Mount Bracket 4.0" [102 mm]
WMBV Vertical Wall Mount Bracket 5.0" [127 mm]
RMS19-SA4-01 4-slot Media converter shelf

Transition Networks SCSCF30 xx-11x DS3-T3/E3 Coax to Fiber NID