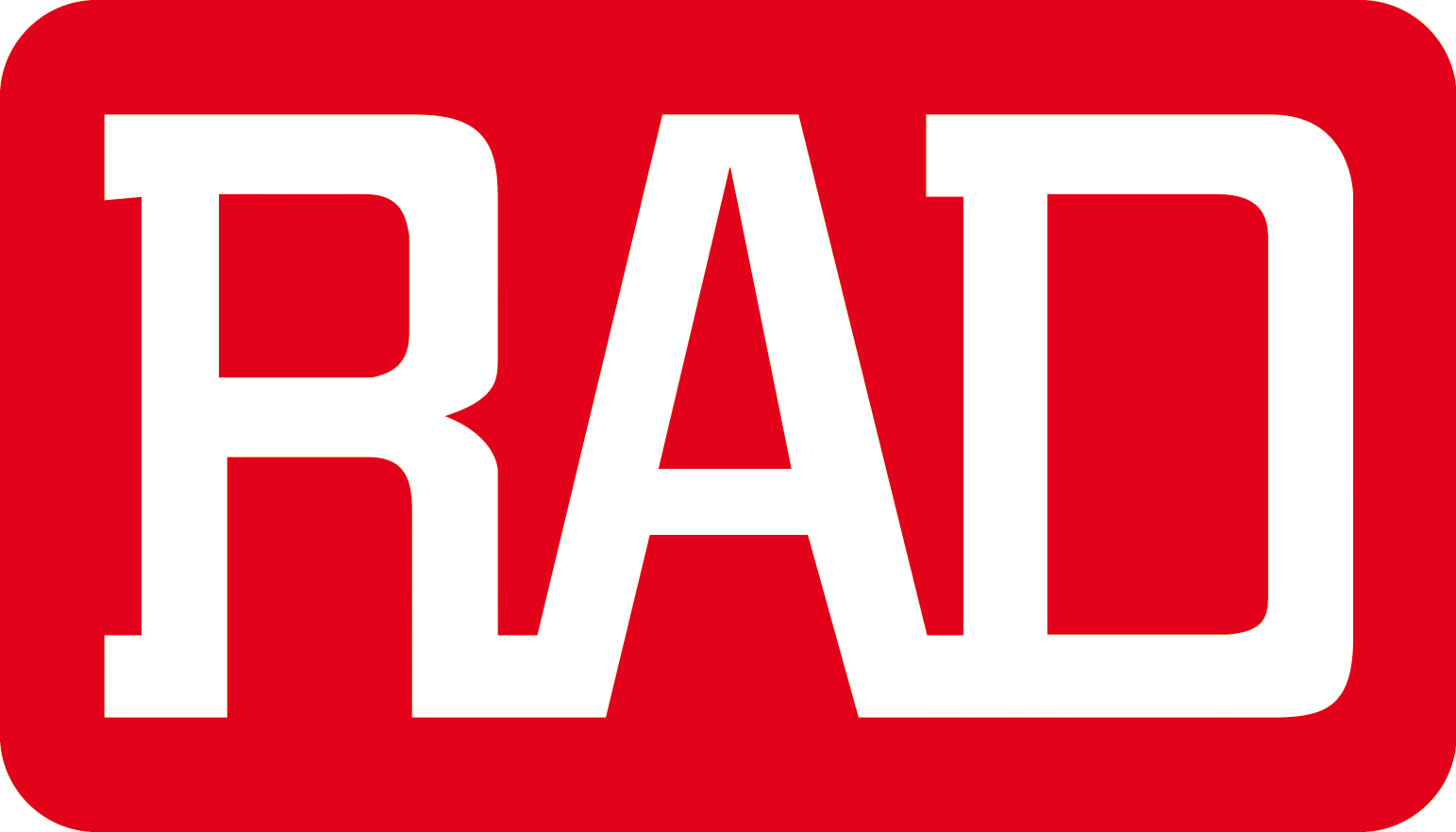 FCD-155E STM-1/OC-3 Add/Drop Multiplexer from RAD Data Communications

FCD-155E STM-1/OC-3 Add/Drop Multiplexer

FCD-155E is an STM-1/OC-3 add/drop multiplexer that transports LAN and traditional (TDM) traffic over SDH/SONET networks. When bandwidth granularity of the Ethernet channel is configured to 2 Mbps (VC-12) or 1.5 Mbps (VT-1.5), the RAD FCD-155E utilizes the SDH/SONET infrastructure for cost-effective connectivity. Optional PDH interface modules include:
• 8- or 21-port E1
• 8- or 28-port T1
• Single-port E3/T3
• Single-port E3 with 21-port E1
• Single-port T3 with 21-port E1 or 28-port T1.

FCD-155E Optional Ethernet interface configurations of the include:
• 2-port bridging 10/100BaseT
• 6-port 10/100BaseT (two bridging and four transparent ports)
• Single-port Ethernet 10/100/1000BaseT (RJ-45) or 1000BaseSX (SFP interface).

FCD-155E Network Interface
The STM-1/OC-3 interfaces are user-configurable and provide a high quality and high-availability link, as well as performance monitoring of the traffic path. The STM-1/OC-3 link is supplied with an SFP socket (see Ordering). It is strongly recommended to order this device with original RAD SFPs installed. This will ensure that prior to shipping, RAD has performed comprehensive functional quality tests on the entire assembled unit, including the SFP devices. RAD cannot guarantee full compliance to product specifications for units using non-RAD SFPs. The user can define the following
SDH/SONET clock sources:
• Internal
• Recovered from the STM-1/OC-3 interface, including automatic selection based on SSM(Synchronization Status Messaging)
• External E1
• Station clock.
RAD FCD-155E features an optional ADM configuration mechanism with SNCP path protection. Optional 1+1 link protection mechanism (unidirectional MSP/APS) and SNCP path protection are also available. Maintenance capabilities include useractivated local loopbacks and remote loopbacks on the STM-1/OC-3 main link and PDH tributaries.

LAN interface of the RAD FCD-155E
The 2-port 10/100BaseT or single-port Gigabit Ethernet interfaces include a built-in Ethernet bridge that supports VLAN according to IEEE 802.1Q and 802.1p. The 4-port transparent LAN extension, without bridge functionality, creates total separation between customers, for security. The maximum frame length is 2 kB. The 10/100BaseT LAN interface features autonegotiation for plug-and-play Ethernet connectivity and complies to IEEE 802.3/Ethernet V.2 standards. The interface also features VLAN stacking. An optional Gigabit Ethernet port enables connection of one LAN port to eight virtual groups. This option provides LAN extension over SDH/SONET networks with bridge functionality. The maximum frame length is 2 kB. Ethernet traffic is mapped into SDH/SONET containers using the following link layer protocols:
• Generic Framing Procedure (G.7041, FP-T1X1.5/2001-186, GFP-F), framed mode
• Link Access Procedure for SDH/SONET (LAPS) protocols following draft recommendation ITU-T X.85/X.86. Each user's Ethernet traffic can be mapped into SDH/SONET virtual containers in any of the following ways:
• Up to 63 Χ VC-12, or 84 Χ VT-1.5
• 3 Χ VC-3/STS-1
• 1 Χ VC-4.
Ethernet traffic can be switched to different bundles of virtually concatenated VCs (up to 8 bundles) according to a predefined group. Link Capacity Adjustment Scheme (LCAS) is supported in compliance with the G.7042 standard, which allocates bandwidth according to Ethernet traffic.

SDH/SONET media can transport basic Ethernet packets of up to 1536 bytes enabling connection to MPLS networks. The Spanning Tree Protocol (STP) and Rapid Spanning Tree Protocol (RSTP) support Layer 2 ring applications.

RAD FCD-155E TDM Interfaces
FCD-155E has an optional interface module consisting of 8 or 21 balanced E1 or 8 or 28 T1 ports that transfer transparent data in compliance with G.703. The unbalanced E1 interface is software selectable. An optional E3/T3 interface module supports unframed E3/T3 links over SDH/SONET. Another optional interface module combines E3 or T3 with 21 E1 ports, or T3 with 28 T1 ports.
TDM traffic is mapped into SDH/SONET VC- 12/VC-11/VC-3 or SONET VT1.5/STS-1 containers that can be placed anywhere within the STM-1/OC-3 bandwidth.

FCD-155E Management
Remote units can be managed in the following ways:
• Via DCC using IP tunneling over OSI DCN based on ITU-T G.7712
• Via DCC based on IP/PPP protocols
• Via a dedicated virtual group containing at least one VC-12/VT-1.5 channel
• Inside the user traffic in a virtual group, separated from the user traffic by the GFP Channel ID or VLAN tag
• Out-of-band, via direct connection to one of the LAN ports. Status and diagnostic information is defined, configured, and monitored using one of the following methods:
• ASCII terminal connected to the V.24/RS-232 control port
• Telnet host via management platform or LAN port
• Network management station running RADview, the RAD SNMP network management application
• TFTP applications to update software and upload/download remote configurations
• ConfiguRAD via a Web browser.

Diagnostics with the RAD FCD-155E
FCD-155E has comprehensive diagnostic capabilities, including:
• Ethernet and SDH/SONET link monitoring
• Real-time alarms to alert the user of fault conditions. Alarms are reported to the management station and simultaneously relayed through a dry contact port.

General information about the FCD-155E
AC or DC power supplies are provided with an alarm-activated fan for forced-air cooling. They are available in redundant and mixed AC/DC power supply configurations. FCD-155E is a compact 1U high 19-inch unit that can be mounted in a 19-inch rack with the optional rack-mount kit (see
Ordering section of the pdf data sheet).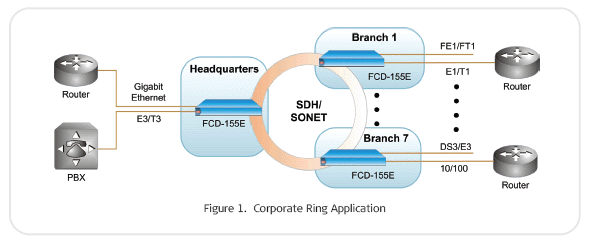 FCD-155E Key Features:

• STM-1/OC-3 PDH/Ethernet add/drop multiplexer for grooming LAN and legacy (TDM) traffic over SDH/SONET networks
• Ethernet traffic maps to 1 VC-3/VC-4/STS-1, up to 3 VC-3/STS-1, up to 63 VC-12 or 84 VT-1.5
• 1+1 MSP/APS redundancy
• PDH interface supports 8 or 21 E1 (G.703), 8 or 28 T1 (G.703), 1 E3/T3, or 1 E3/T3 with 21/28 E1/T1 ports
• 10/100BaseT and GbE (Gigabit) Ethernet interfaces with VLAN support and point-to-multipoint switching capability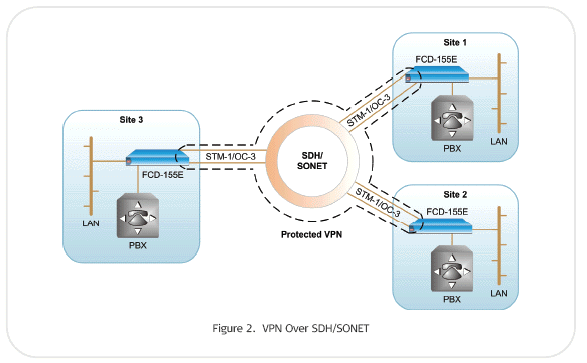 Common ordering models included:
FCD-155E/48/R/6U catalog 4600650000
FCD-155E/48/R/6U/8T1 catalog 4600750000
FCD-155E/48/R/GE catalog 4600640000
FCD-155E/48R/6U/28T1 catalog 4600560000
FCD-155E/48R/6U/T3 catalog 4600590000
FCD-155E/AC/R/6U/28T1 catalog 4600130000
FCD-155E/AC/R/6U/8T1 catalog 4600180000
FCD-155E/AC/R/GE catalog 4600460000
FCD-155E/ACR/6U catalog 4600730000